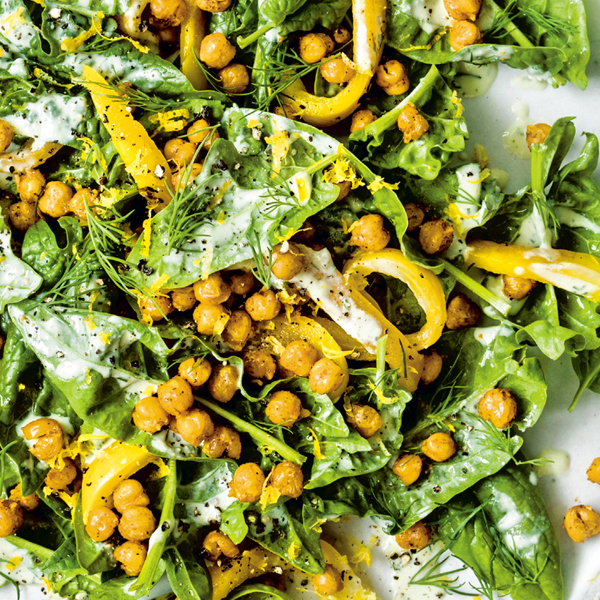 While I typically call for from-scratch chickpeas, I'm fine with using canned ones in this recipe. Once they are roasted and tossed in blackened seasoning, they make a great snack or addition to leafy salads such as this one.
Ingredients
creamy herb dressing
¾ cup silken tofu
2 tablespoons minced shallots
1 tablespoon minced fresh dill
1 tablespoon fresh parsley
¼ teaspoon Dijon mustard
Kosher salt
Freshly ground white pepper
spinach salad
1 (15.5-ounce) can chickpeas
2 large yellow bell peppers
1 tablespoon plus 1 teaspoon safflower oil
½ teaspoon kosher salt, plus more as needed
2 teaspoons Blackened Seasoning
¾ pound spinach, torn into bite-size pieces
½ lemon
Freshly ground white pepper
1 tablespoon finely grated lemon zest
Dill fronds, for garnish
Directions
Make the dressing: In a blender, combine the tofu, shallots, dill, parsley, and mustard. Puree until creamy, then season with salt and pepper to taste. Set aside.
Make the salad: Drain the chickpeas in a colander, thoroughly rinse them in cold water, and set them aside to dry for 1 hour.
Once the chickpeas have thoroughly dried, preheat the oven to 350°F. Line a rimmed baking sheet with parchment paper.
Transfer the dried chickpeas to a large bowl, add 1 tablespoon of the oil and ½ teaspoon of salt, and toss well to combine with clean hands. Spread the chickpeas in one even layer on the baking sheet. Bake, shaking the pan every 15 minutes to ensure even cooking, until golden brown and starting to turn crispy, about 45 minutes.
Immediately transfer the chickpeas to the bowl just used, drizzle the remaining 1 teaspoon oil over them, and sprinkle with the blackened seasoning. Toss well to combine, transfer back to the baking sheet, and set aside to cool for 15 minutes.
Place the spinach and bell peppers in a salad bowl. Lightly squeeze with the lemon juice, lightly sprinkle with salt, and toss to combine with clean hands. Stir the dressing a few times and lightly dress the vegetables. Add the chickpeas, season with pepper, and lightly drizzle with the dressing. Garnish with lemon zest and dill fronds.