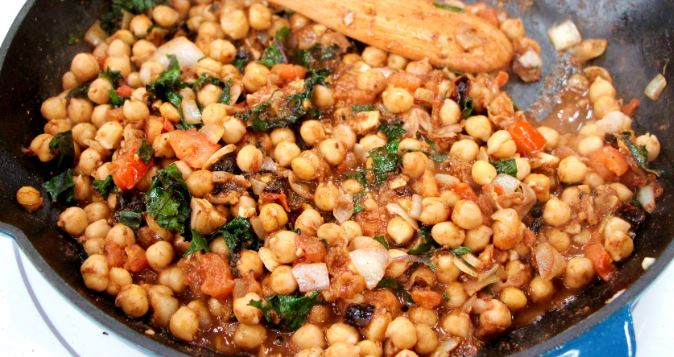 This vegan and gluten-free Instant Pot Chickpea is a tasty main meal full
of Moroccan spices and flavors. Serve with rice, couscous, or other crusty
bread.
This tasty Instant Pot chickpea stew (chickpeas are the same as garbanzo
beans) normally took about 35-40 minutes, but wanted to try it in the
Instant Pot and it went very good. The flavors have evolved almost as
well, but in a much shorter period.
The stew may be eaten on its own with some toast or fresh, crusty bread,
or with a side of rice or couscous. It's a nutritious meal that's vegan and
gluten-free, with tons of fiber, plant protein, tomato, and spinach nutrients.
It can be finished ahead of time, and we imagine it'll be much better after
it sits in the refrigerator overnight. It can be frozen for later, too.
From Ayurvedic Point of View:
For vegetarians, beans , dals, and lentils are an essential source of
nutrition—protein, complex carbohydrates, fiber, and vitamins. As
versatile as they are tasty, dals and lentils are used to make salads,
appetizers, soups, main dishes, side dishes, and desserts, too. They fit
well with other foods, such as grain, vegetables, herbs, and spices.
Servings: 4
Time to Prepare: 30 minutes
Ingredients:
3+1/2 cups vegetable stock (made with a veggie stock cube or
premade)
2 tins (400 g each) canned chickpeas/garbanzo beans (drained
and rinsed well)
2 cups (400g) chopped tinned tomatoes
1 large onion (chopped)
2 tbsp. olive oil
2 tbsp. of raisins
12 sun-dried tomatoes (chopped into pieces)
½ tsp. salt and some pepper to taste
5 cloves of garlic (finely chopped or crushed)
140 g washed baby spinach or a few lumps of frozen spinach
2 tsp. cinnamon powder
2 tbsp. cumin powder
¼ tsp. cayenne pepper or chili
2 heaped tsp. paprika powder
A handful of fresh cilantro or parsley leaves to serve
Instructions:
Switch the Instant Pot on and press the Sauté feature. Add the
onion and olive oil and cook for 2-3 minutes. Add the garlic and
spices and stir for 30 seconds. Add the rest of the ingredients
and mix well. To stop the Sauté function, click Cancel.
Pop the lid to the top, lock it (make sure the steam valve points
to Sealing) and set the Instant Pot to Manual, High, for 10
minutes.
After 3 beeps, the Instant Pot will continue to build up the
pressure and start cooking. When the timer is turned off, allow
the pressure to release naturally for 10 minutes, and then use a
Quick Release to release the rest of the steam (just point the
Sealing valve to Venting).
Open the lid and stir in the stew. We like to let it sit for five
minutes before serving it with some fresh herbs on top. With
this stew, you may offer a side of cooked rice, couscous, or
crusty bread.
Notes:
We're using tinned, cooked chickpeas for this stew recipe, and
the entire thing just requires 10 minutes under high intensity. If
you would like to use dried garbanzo beans/chickpeas, I suggest
that you cook them first.
Dry cooking time: 30 minutes at High Pressure in enough water
to fully submerge the beans.
Soaked cooking time: 10-15 minutes at High Pressure in
sufficient water to completely submerge the beans.