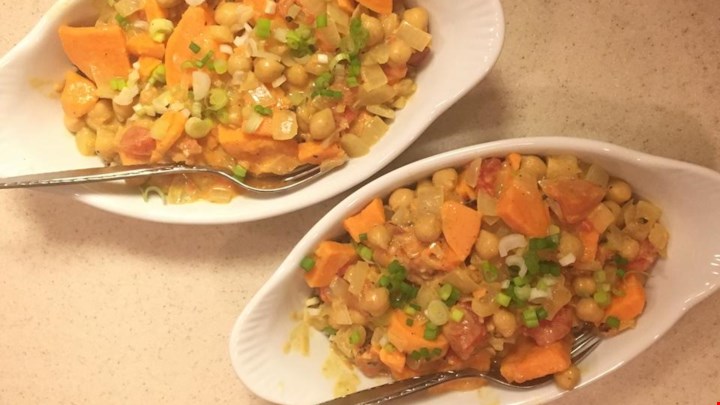 This wonderfully delicious and fulfilling Chickpea Tikka Masala is made
with only five Ingredients and is so incredibly simple to make. Totally
vegan and gluten-free!
This Chickpea Tikka Masala is no exception and will not disappoint you.
It's warm, creamy, perfectly seasoned with incredible flavors, addictive,
unbelievably simple, protein-rich, and seriously so good.
Preparation may not have been easier. You'll be finished with the recipe in
only a few minutes.
From Ayurvedic Point of View:
For vegetarians, beans , dals, and lentils are an essential source of
nutrition—protein, complex carbohydrates, fiber, and vitamins. As
versatile as they are tasty, dals and lentils are used to make salads,
appetizers, soups, main dishes, side dishes, and desserts, too. They fit
well with other foods, such as grain, vegetables, herbs, and spices.
Servings: 6
Time to Prepare: 20 minutes
Ingredients:
2 x 15 oz cans chickpeas (drained)
2 x 15 oz cans chopped tomatoes
1 cup coconut milk
4 tsp. garam masala (curry powder)
Salt and pepper to taste
6 cloves garlic (peeled and chopped)
1/2 cup chopped onions (optional)
1 cup chopped bell pepper (optional)
Instructions:
If you use the optional items like onions and bell peppers, first
heat a little coconut oil in the same Pot (or use vegetable broth
for oil-free cooking). Fry the vegetables for about five minutes.
Add in that Pot all the ingredients including chickpeas, chopped
tomatoes, coconut milk, garlic, and garam masala. Season with
salt and pepper, bring to cook and let it simmer for 10 minutes.
Serve hot.