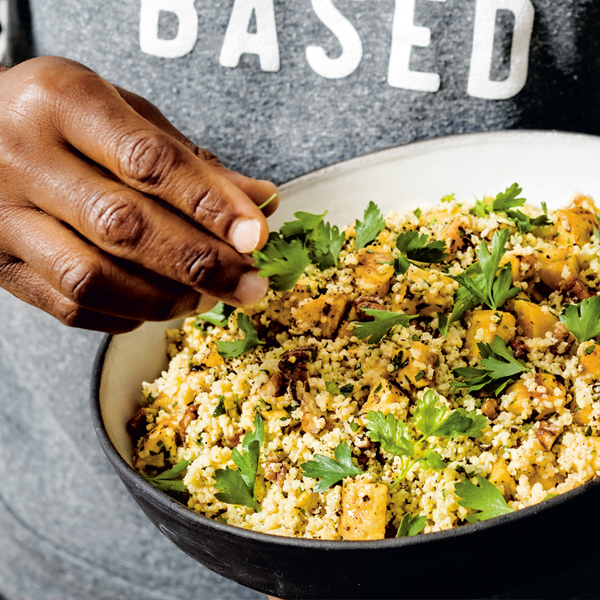 This is a delicious and substantial salad that fuses ingredients from different parts of the African Diaspora. Millet, a staple food crop for a number of countries in sub-Saharan Africa, provides a mild, slightly nutty base on which to build a flavorful dish. Plantains, commonly eaten throughout Africa as well as in the Caribbean, Central America, and South America, are baked to yield crunchy-creamy chunks that add heartiness. Pecans, a staple in African American cooking, bring more complexity and texture. The flavorful parsley-based dressing adds freshness and zest.
Ingredients:
2 large, ripe yellow plantains
1 tablespoon extra-virgin olive oil
¾ teaspoon kosher salt, divided
1 cup pearl millet, soaked in water plus 1 tablespoon vinegar overnight
2 cups water
½ cup chopped pecans, toasted
2 tablespoons minced parsley
Sweet Parsley Vinaigrette
Freshly ground black pepper
¼ cup parsley leaves
Directions
Make the salad: Preheat the oven to 350°F. Line a baking sheet with parchment paper.
Slice off the ends of each plantain, score the peel in four even strips, lengthwise, and remove the strips. Cut the plantain into quarters, lengthwise, and slice them into bite-size pieces. In a bowl, toss the plantains with the olive oil and ¼ teaspoon salt. Spread in an even layer on the baking sheet and roast, stirring a few times to ensure even roasting, until starting to turn golden brown, about 30 minutes.
While the plantains are roasting, drain the millet. In a medium saucepan over medium-high heat, toast the millet, occasionally shaking the pan to ensure even cooking, until the millet smells nutty, about 3 minutes. Add the water and ½ teaspoon salt, raise the heat to high, and bring to a boil. Immediately decrease the heat to low, cover, and simmer until most of the liquid has been absorbed, about 15 minutes. Remove from the heat, transfer to a fine-mesh sieve, and rinse under cold water to stop the cooking. Set aside to thoroughly drain for 5 minutes, then transfer to a bowl.
Add the pecans, minced parsley, baked plantains, and half of the vinaigrette to the millet and toss to combine. Taste and add additional vinaigrette if needed. Season with salt and pepper to taste. Transfer to a serving bowl and sprinkle with parsley leaves.