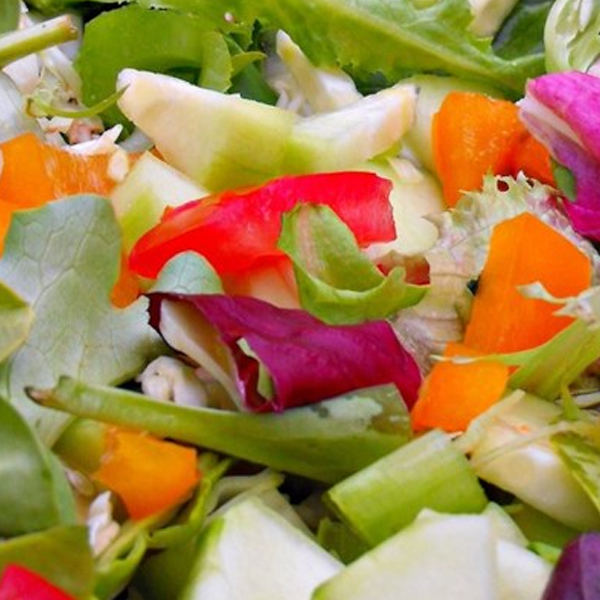 When conceiving this dish, I thought about how pretty a monochromatic green salad would be on a white plate. Well, this salad tastes as good as it looks. It's the type of light-but-filling dish that I often have for lunch to tide me over until dinner. I also serve it alongside richer dishes to balance them out. After tenderizing toothy kale by lightly massaging it with lemon juice and salt, I toss the kale and diced apples in a creamy, sweet, sage-forward dressing so that every bite is fragrant and lively. The candied pistachios balance the bitter arugula and add texture.
Ingredients
dressing
2 tablespoons unseasoned rice vinegar
2 tablespoons fresh lemon juice
¼ cup silken tofu
2 tablespoons raw cane sugar
1 teaspoon minced garlic
2 teaspoons minced fresh sage
6 tablespoons olive oil
Kosher salt
Freshly ground white pepper
salad
6 cups bite-size lacinato kale that has been trimmed of the tough stems
½ lemon
Kosher salt
3 large Granny Smith apples, peeled, cored, and diced
2 teaspoons safflower oil
½ cup raw pistachios
2 tablespoons raw cane sugar
2 cups bite-size arugula that has been trimmed of the tough stems
Directions
Make the dressing: In a blender, combine the vinegar, lemon juice, tofu, sugar, garlic, and sage. With the blender running, slowly pour in the olive oil until creamy. Season with salt and pepper to taste.
Make the salad: Put the kale in a large bowl. Lightly spray with lemon juice and sprinkle with salt, then massage the kale until it just starts to wilt, about 2 minutes. Dump the apples into the bowl, add just enough dressing to lightly coat, and toss everything. Set aside.
Line a baking sheet with parchment paper.
Warm a cast-iron skillet over medium-high heat. Add the oil and heat until shimmering. Lower the heat to medium, add the pistachios and sugar, and stir constantly until the sugar has melted and the pistachios are fragrant and starting to brown, about 1½ minutes. Transfer the nuts to the baking sheet and immediately spread them apart using two forks. Set aside to cool for 15 minutes.
Add the arugula to the bowl with the kale and apples, add more dressing, and toss to lightly coat. Top with the candied pistachios, season with salt and pepper to taste, then serve with the remaining dressing on the side in case people want to drizzle on more.