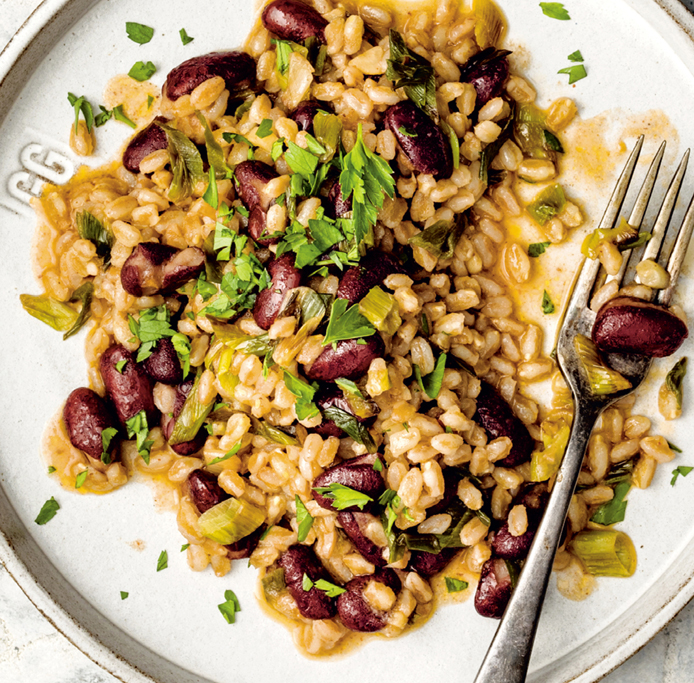 This recipe is inspired by the rice and peas (or rice and beans) dish that's found throughout the Caribbean but is most closely associated with Jamaica. Depending on whom you ask, the "peas" are pigeon peas or kidney beans—I use the latter in this recipe, and farro instead of the traditional long-grain white rice. Farro, one of the first crops to be cultivated in the Middle East's Fertile Crescent, was used for thousands of years in the Near East and parts of Africa until modern wheat varieties took over. Now the grain is most associated with Italian cooking. One of my favorite things about farro is its chewiness. Think about the difference between overcooked and al dente pasta. In this dish, the bite that you get from farro is so much more satisfying than rice. Farro has a much more complex flavor than rice, too—nutty and slightly sweet—adding an even more distinctive taste to this recipe.
Ingredients:
¾ cup dried kidney beans, picked over and soaked in water overnight
1 bay leaf
½ large white onion
3 garlic cloves, cut in half
1 dried red chile
Coarse sea salt
1 cup farro, soaked in water plus 1 tablespoon vinegar overnight
1 cup unsweetened canned coconut milk
2 allspice berries
2 tablespoons coconut oil
2 bunches scallions (about 7 ounces total), thinly sliced
2 large garlic cloves, minced
½ teaspoon smoked paprika
2 tablespoons minced fresh thyme
¼ teaspoon cayenne pepper, or more to taste
White wine vinegar
½ cup chopped fresh parsley
Directions
Drain the kidney beans, put them in a medium saucepan, and add water to cover by 3 inches. Add the bay leaf, onion, garlic halves, and chile and bring to a boil over high heat. Reduce the heat to low and simmer until the beans are just tender, 45 to 60 minutes. Add ½ teaspoon salt and simmer for 5 minutes more. Drain the beans and remove and discard the bay leaf, onion, garlic, and chile.
While the beans are cooking, drain the farro and put it in a large saucepan. Add 1½ cups water, the coconut milk, allspice berries, and ½ teaspoon salt. Bring to a rolling simmer over medium-high heat, then quickly decrease the heat to medium-low, cover, and simmer until the farro is al dente (taste a few grains to test for doneness). Drain the farro, reserving the cooking liquid, and return the farro to the saucepan; set the cooking liquid aside.
While you've got the beans and the farro cooking, in a medium skillet, warm the coconut oil over medium-low heat. Add the scallions and cook, stirring often to prevent them from sticking, until they start to crisp and almost blacken around the edges, about 20 minutes. Add the minced garlic and paprika and cook until the garlic is fragrant, about 3 minutes. Remove from the heat.