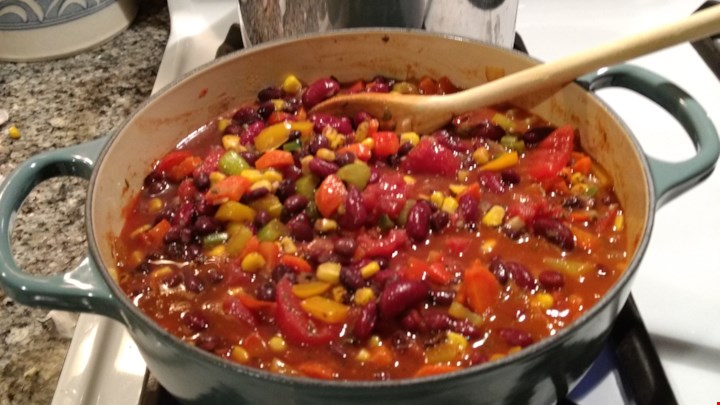 This Instant Vegan Chili Pot is the best Vegan Chili recipe you'll ever
have! It's so quick to make, it just needs a few basic Ingredients, and it's
ready in no time at all. Guaranteed to please vegetarians and vegans!
From Ayurvedic point of View:
For vegetarians, beans , dals, and lentils are an essential source of
nutrition—protein, complex carbohydrates, fiber, and vitamins. As
versatile as they are tasty, dals and lentils are used to make salads,
appetizers, soups, main dishes, side dishes, and desserts, too. They fit
well with other foods, such as grain, vegetables, herbs, and spices.
According to Ayurveda, all three Doshas are imbalanced by tomato . But
in moderation, tomatoes are also a good source of Potassium and vitamins,
especially vitamin A and vitamin C.
Vitamin A is an antioxidant that is extracted from carotenoids, such as
beta-carotene, present in tomatoes. Being an antioxidant, vitamin A helps
shield the body's cells from free radicals that may damage them. Free
radicals are created as the body breaks down food or reactions to the
environment, such as radiation and cigarette smoke. But safety from the
effects of free radicals is not the only benefit. Vitamin A also influences
good vision, bone growth, cell activity, reproduction, and immune system
activity.
Servings: 7
Time to Prepare: 30 minutes
Ingredients:
30-ounce red kidney beans (drained and rinsed)
28-ounce fire-roasted tomatoes (regular is fine)
2 tsp. cumin
2 tsp. smoked paprika
1 tsp. oregano
1 onion (diced)
3 cloves garlic (minced)
1-1/2 cups low sodium vegetable broth
15-ounce black beans (drained and rinsed)
1 chipotle pepper in adobo sauce (finely chopped, with seeds)
2 tbsp. chili powder
1 tbsp. maple syrup
Salt to taste
Instructions:
Hit the Sauté button on the Instant Pot. Add the onions, garlic,
chili powder, cumin, smoked paprika, oregano, and chopped
chipotle pepper to the adobo sauce. Add 2 tbsp. of water or
veggie broth to avoid sticking, if necessary. Give it all a swirl
and let it toast for 2 minutes.
Add all the remaining ingredients to the Instant Pot, mix to
make sure that it is well mixed, secure the lid.
Set to cook for 5 minutes to cook at Manual High Pressure.
When the time is up, do Quick Release by turning the release
valve to Venting and remove the lid.
Serve in individual bowls with the appropriate toppings.
Place in the refrigerator for up to 3 days or in the freezer for a
month.