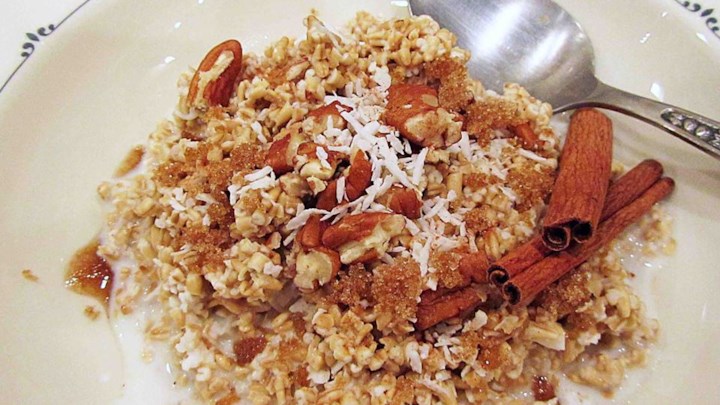 Steel Cut Oats
This is another very quick recipe that just requires a couple of minutes to
put together. The best thing is that this recipe can be modified to match
your preferences. Don't like apples, consider strawberries instead.
From Ayurvedic Point of View:
Oats inherently tastes sweet in their grain form. These qualities and the
dominant sweet taste are especially balancing for Vata Dosha, and the
sweet taste, together with the heavy and soft qualities, is balancing for
Pitta.
A Vata-balancing breakfast, this oatmeal will please your appetite and
your taste buds. It can also work to balance the brain and lubricate the skin
and fluid pathways of the body. Vata Dosha is connected to our "Air"
energy.
Cinnamon is a warm spice, with a sweet, pungent, and bitter taste. It's
excellent for pacifying Kapha and perfect for calming Vata, too. Cinnamon
is used in Ayurveda to improve digestion and soothe stomach disorders.
Servings: 4
Time to Prepare: 20 minutes
Ingredients:
1 big apple (washed, peeled, and diced)
1 cup steel cut oats
1 tsp. vanilla extract
1 /2 tsp. ground cinnamon
2 1 /2 cups water
Salt to taste
Instructions:
Put the oats, water, apple bits, vanilla, cinnamon, and salt in the
Instant Pot. Stir to mix the ingredients together.
Cover the lid and make sure the valve is shut. Use the Manual
Pressure Cook button and adjust the time to 4 minutes. Enable
10 minutes of gradual release before removing the valve to
relieve any residual pressure.
Carefully remove the lid and stir the oats.
Serve hot and add your favorite toppings such as berries,
cinnamon, freshly ground nutmeg, sunflower butter or almond
butter, maple syrup, or honey