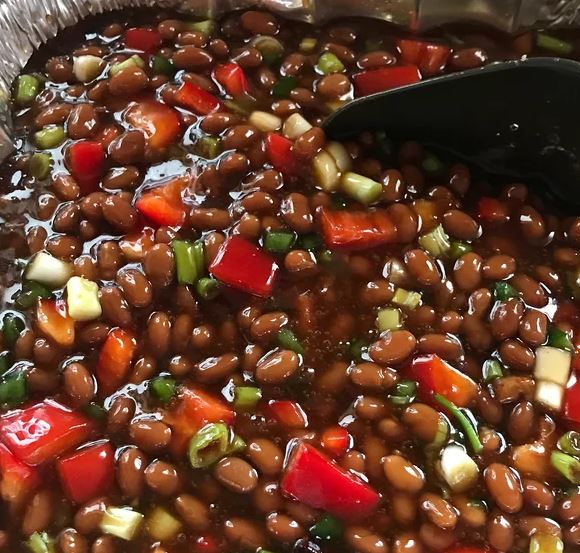 These cowboy beans are conveniently produced in One Pot, taste great and
reach the spot on every table for quick family dinner or potluck ideas. No
one's really going to think its vegan and so absolutely delicious.
This basic recipe falls together in 15 minutes, making them a big winner.
Even children will call for seconds with these amazing three-bean flavors
and a mix of BBQ and tomato sauces.
Protein-rich, hearty, mouth-watering, delicious, sturdy with bold flavors!
Yeah, no one will ever believe its vegan, even meat-eaters know it's just
the best cowboy beans recipe you've ever tried and made.
From Ayurvedic Point of View:
For vegetarians, beans , dals, and lentils are an essential source of
nutrition—protein, complex carbohydrates, fiber, and vitamins. As
versatile as they are tasty, dals and lentils are used to make salads,
appetizers, soups, main dishes, side dishes, and desserts, too. They fit
well with other foods, such as grain, vegetables, herbs, and spices.
Mushrooms have an earthy flavor like a dark, rich, loamy soil. That
earthiness is a symbol of the Potential of the mushrooms to hold you
grounded and calm your nervous system. They are called Tamasic in
Ayurveda, implying that they make the consciousness sleepy.
Mushrooms are particularly absorbent minerals in the soil, along with a
rich nutritional profile, as their earthy flavor indicates. As well as
mushrooms consume minerals, they even accumulate any toxins
they're grown in, and have also been used to clean up toxins waste sites.
That's why you should always consume organic mushrooms.
Ayurveda considers onion and garlic more than food. As a result, onions
and garlic are known as blood purifiers in Ayurveda. While garlic has
curing properties, onions have cooling properties and are a perfect summer
snack. Onions are sweet in flavor and help promote better digestion.
Servings: 6
Time to Prepare: 20 minutes
Ingredients:
8 oz mushrooms (finely chopped)
Salt and pepper to taste
6 cups mixed beans, (drained and cooked) (I used a 15 oz can
cannellini beans, a 15 oz can kidney beans, and a 15 oz can
black-eyed peas)
1 batch sugar-free BBQ sauce
1 tsp. mustard
15 oz tomato sauce
1 cup onions (chopped)
2 tsp. liquid smoke (optional)
1 tsp. chili powder (optional)
Instructions:
First, heat a little oil (or vegetable broth for cooking oil-free).
Add the onions and mushrooms and cook them for about 3
minutes.
Then it's time to bring the beans, BBQ sauce, tomato sauce,
mustard, and optional items including liquid smoke, and chili
powder; a pinch of salt and pepper, of course.
Cook for around 10 minutes on medium heat. At the last serve
in bowls and enjoy.