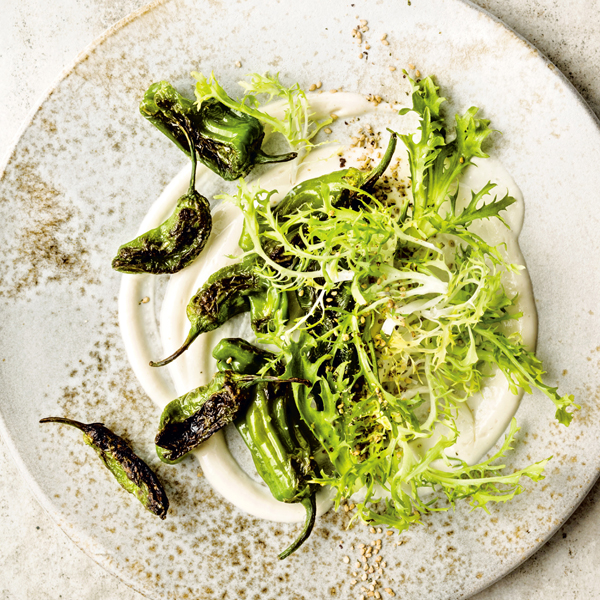 One of my favorite fall snacks is blistered shishitos—Japanese chile peppers. They typically have a mild, sweet flavor that makes them delicious to eat on their own. In restaurants, they are often served with a simple shoyu sauce or something acidic like cut lemons and limes or a ponzu sauce. I prefer eating them with a creamy dipping sauce to chill out the heat of any hotter peppers, so I created this miso-ginger dressing to pair with them. You can serve the charred peppers and dressing as an appetizer, or complete this full recipe to level up to a bright salad. Since early fall is the peak season for shishito peppers and frisée—a small curly endive—they go together beautifully. The bittersweet taste of both vegetables is balanced by the vibrant dressing. A sprinkling of gomasio, a Japanese condiment made of unhulled sesame seeds and salt, adds another layer of flavor.
Ingredients:
Creamy miso-ginger dressing
¼ cup silken tofu
1 heaping tablespoon white miso paste
½ teaspoon coconut palm sugar
1 tablespoon unseasoned rice vinegar
1 tablespoon fresh lemon juice
½ teaspoon minced garlic
2 teaspoons minced fresh ginger
2 tablespoons peanut oil
½ teaspoon kosher salt (optional)
Salad
Safflower oil, for blistering the peppers
8 ounces shishito peppers
Kosher salt
6 ounces frisée (1 large head), white and light green parts only, torn into bite-size pieces
Gomasio, for garnish
Directions
Make the dressing: In a blender, combine the tofu, miso, sugar, vinegar, lemon juice, garlic, and ginger. With the blender running, slowly pour in the peanut oil through the hole in the lid and blend until creamy. Season with the salt, if desired, and set aside.
Make the salad: Line a baking sheet with a paper towel and set it nearby. In a large cast-iron skillet, heat 2 tablespoons of safflower oil over medium-high heat until shimmering. Add enough peppers to fit comfortably in the pan and cook, shaking the pan occasionally for even blistering, until the peppers are charred and tender, about 4 minutes. Transfer to the prepared baking sheet. Repeat this, adding more safflower oil with each round, until all the peppers are blistered. Sprinkle the peppers with salt.
To serve, put the frisée in a medium bowl and add just enough of the dressing to lightly coat.
Smear a little dressing onto each of four plates, top each with a handful of peppers, and evenly divide the frisée among them. Drizzle a little more dressing on top, sprinkle with gomasio, and serve.