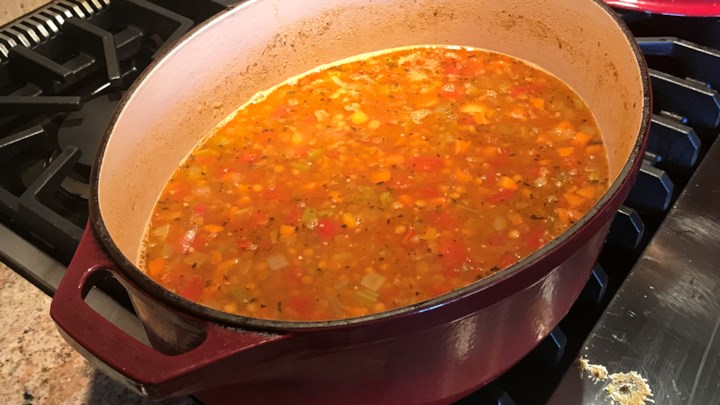 Here's a quick and easy lentil soup full of vegetables and flavor. Cooking
in Instant Pot makes food preparation too simple and fast in general. I
have found that whether you Pressure Cook lentils or beans, you get the
additional advantage of having lentils significantly decreased compared
with regular stove-top cooking. This can be a great interest to people with
lentil or autoimmune sensitivities.
From Ayurvedic Point of View:
For vegetarians, beans, dals, and lentils are an essential source of nutrition
—protein, complex carbohydrates, fiber, and vitamins. As versatile as they
are tasty, dals and lentils are used to make salads, appetizers, soups, main
dishes, side dishes, and desserts, too. They fit well with other foods, such
as grain, vegetables, herbs, and spices.
Servings: 4
Time to Prepare: 25 minutes
Ingredients:
2 1/2 cups vegetable broth
1 tsp. each, dried oregano and thyme
2 medium carrots (chopped)
1 head of celery (chopped)
1 medium zucchini (chopped)
1 cup lentils (rinsed)
Salt and pepper to taste
1/2 fresh lemon for topping
Dairy-free yogurt and fresh chives (optional, for topping)
Instructions:
Add the lentils, the chopped carrots, the chopped zucchini, the
chopped celery, the broth, the dried oregano, and the dried
thyme in a 6 or 8-quarter Pot.
Lock on the lid and cook for 15 minutes.
If the soup is cooked, relieve the pressure by Quick Release, or
let it come down naturally.
Remove the lid and stir the soup. Squeeze the lemon on top of
that.
Top each serving of soup with a spoonful of dairy-free yogurt.
Finally, if desired, sprinkle the top with freshly chopped chives.
Serve hot.