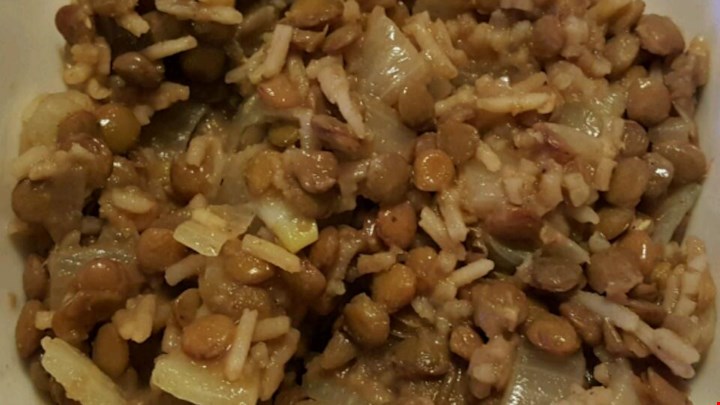 It's a very famous lunch/breakfast recipe from Karnataka (South India). In
Kannada, Bisi means hot, Bele means lentil, and Bath means rice.
It's a healthy and balanced One Pot meal made of rice, lentils, and mixed
vegetables. It tastes great when eaten with Kara Bhoondi, potato chips, or
Papad.
The trick to making Bisibelebath is to make the masala powder fresh at
home. Bisibelebath powder is readily available in supermarkets these
days. If you don't have the time to run late, you can conveniently purchase
Bisibelebath Masala. Typically, I buy MTR Bisibelebath Masala.
From Ayurvedic Point of View:
For vegetarians, beans, dals, and lentils are an essential source of nutrition
—protein, complex carbohydrates, fiber, and vitamins. As versatile as they
are tasty, dals and lentils are used to make salads, appetizers, soups, main
dishes, side dishes, and desserts, too. They fit well with other foods, such
as grain, vegetables, herbs, and spices.
In Ayurvedic terms, rice is said to be quite balancing to all the three
Doshas or elements that underlie our body and our wellbeing—Vata, Pitta,
and Kapha. Rice is lighter than many other grains, so that it can be eaten
by Kapha; it's cool, sweet, and moist nature function for Pitta; and sweet
moist attributes balance Vata.
Servings: 4
Time to prepare: 25 minutes

Ingredients:
1 cup rice (I used short-grained)
1 tbsp. mustard seeds
cups mixed vegetables (carrot, beans, peas, Potato, and bell
pepper/capsicum)
1/2 tsp. cumin seeds
2 tbsp. tamarind extract (2 tablespoon of tamarind water
extracted from soaking small lemon size tamarind)
3/4 cup toor dal/spilt pigeon peas
1 medium onion
1 sprig curry leaves
A pinch Asafetida(hing)
Salt to taste
6 cups water
3 tbsp. bisibelebath Powder
1/2 tsp. turmeric powder (optional)
1 tsp. red chili powder
2-3 tbsp. oil
2 tbsp. cilantro leaves
few curry leaves
A pinch asafoetida (hing)
Few cashew nuts
1 tbsp. ghee or oil
1/2 tsp. mustard seeds
2-3 red dry chilies
Instructions:
Chop all the vegetables and the onion. Keep them aside.
Soak the tamarind in hot water. Extract the pulp and keep it
aside.
Press Sauté on Instant Pot. Add oil and, once hot, add mustard
seeds, cumin, curry leaves, asafetida, and let it splutter.
Add the onions, Sauté for 2-3 minutes until soft and light
brown; stir regularly.
Add the vegetables and cook for another 1-2 minutes.
Add the bisi bele bath powder, the red chili powder, the
turmeric powder, the tamarind extract, and the salt.
Keep stirring, or the mixture can get burnt.
Add the washed toor dal (lentils), rice, water, jiggery, and stir
well.
Click the Cancel button on the Instant Pot.
Cover the lid of the Pot and change the valve from the Venting
to the Sealing position.
Set the Pot to Manual Pressure Cook and set the timer to 8
minutes.
Do the Quick Pressure Release (Wait until the valve on the lid
drops). Remove the lid, garnish with Cilantro. Mix well.
Come back to Sauté mode, add 1/2-1 cup of water (depending on
your preference).
Boil for 2-3 minutes. Bisibelebath is ready. Add tempering
again, it's absolutely optional.
Serve with Kara Bhoondi, Potato chips or Papad.
Notes:
Instead of using oil for tempering, you can use ghee, vegans can
avoid it.
You can use vegetables of your choice like drumstick, brinjal
(egg plant), and sweet Potato.
If you don't have bisibelebath powder you can replace with 2
tbsp. of sambhar powder and 1 tbsp. of vangibath powder.
If tamarind is not available you can replace it with tomatoes.