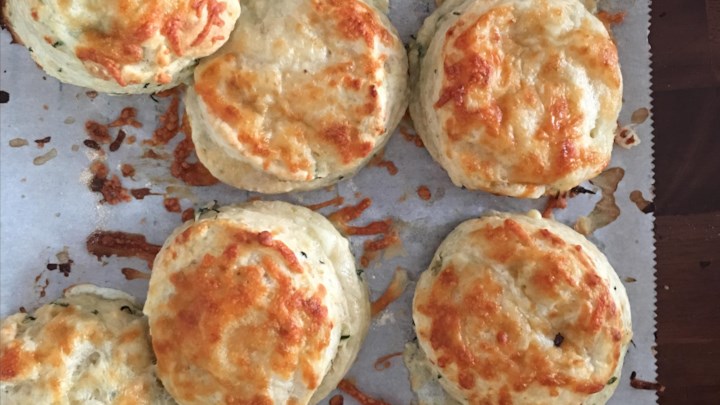 Here's the thing: these scallion biscuits are a standout on their own. But I wanted to pair them with umami-rich mushroom gravy so they could be eaten as a meal. This is the type of breakfast that my dad likes to have on vacation or on one of his "cheat days." I agree with Pops. It's a dish that requires a leisurely day to make and enjoy.
Ingredients
Gravy
2 tablespoons extra-virgin olive oil
4 ounces button mushrooms, stemmed and diced
4 ounces cremini mushrooms, stemmed and diced
2 tablespoons millet flour
1 cup unsweetened oat milk
1 cup mushroom stock
½ teaspoon kosher salt, plus more as needed
Freshly ground white pepper
Biscuits
1¼ cups unbleached all-purpose flour
¾ cup teff flour
1 tablespoon raw cane sugar
2 teaspoons baking powder
¾ teaspoon fine sea salt
½ teaspoon baking soda
7 tablespoons coconut oil, chilled for at least 15 minutes
½ cup thinly sliced scallions (about 8)
1 cup unsweetened oat milk
1 tablespoon apple cider vinegar
Microgreens, for garnish
Directions
Make the gravy: In a medium saucepan, warm 1 tablespoon of the olive oil over medium heat. Add the mushrooms and sauté, stirring often, until the liquid they release has evaporated, 5 to 7 minutes. Stir in the flour and remaining 1 tablespoon olive oil until well combined. Decrease the heat to low and cook, stirring often, until the flour starts to brown, about 10 minutes.
While whisking, add the oat milk, stock, and salt. Increase the heat to medium-high and bring to a simmer, then decrease the heat to medium-low and simmer, whisking very frequently, until thickened, about 15 minutes. Season with salt and white pepper to taste; cover to keep warm while you make the biscuits.
Make the biscuits: Preheat the oven to 425°F. Line a baking sheet with parchment paper.
In a large bowl, sift together the flours, sugar, baking powder, salt, and baking soda. Whisk until well blended. Add the coconut oil and use two butter knives or your fingers to cut it into the flour until the mixture is the size of small peas. Stir in the scallions.
In a small bowl, stir together the oat milk and vinegar. Make a well in the center of the flour mixture and pour in the oat milk mixture. Stir just until the dough comes away from the sides of the bowl.
Use an ice cream scoop and a spoon (if needed) to portion out 10 to 12 mounds of dough, with 2 inches between them, on the baking sheet, each 2 to 2½ inches in diameter. Bake until golden brown on the bottom, 16 to 18 minutes.
To serve, place two hot biscuits on each plate and top with a generous ladle of the gravy. Garnish with microgreens. Serve.