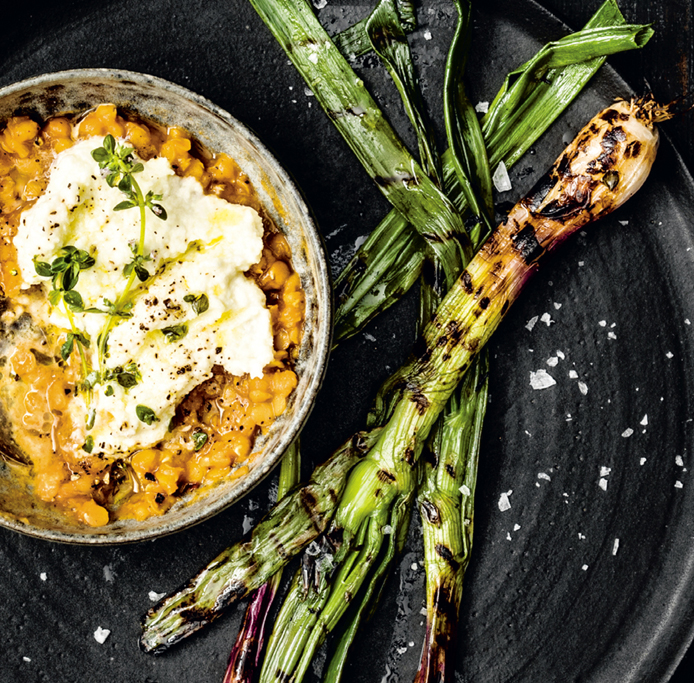 When spring onions are available in late spring and summer, I char them on my grill as often as possible. Most of the time, I don't have a vision for how they will be used in the meal, but that always seems to work itself out. I usually toss them with peanut oil first, but for this recipe, an herby thyme oil packed with lemon zest reigns. I once topped my version of misir wot, a signature Ethiopian dish made with red lentils, with some chopped spring onions grilled in lemon-thyme oil, and my wife said it felt like a flavor explosion in her mouth. I trust that this re-creation of that combination will lead to a similar experience for you. Make sure you soak two 8-inch wooden skewers in water for half an hour before grilling to prevent them from burning. If you can't grill the spring onions, simply warm the lemon-thyme oil in a large skillet and cook them until they just start to brown, about 1 minute.
Ingredients
spring onions
2 tablespoons plus ⅛ teaspoon kosher salt
12 spring onions or large scallions, trimmed
1 teaspoon Charred Lemon–Thyme Oil , plus more for oiling the grill
Flaky sea salt
stewed red lentils
3 tablespoons extra-virgin olive oil
¾ cup finely chopped yellow onion
½ teaspoon minced garlic
1 tablespoon Berbere Spice Blend
1 cup tomato puree
½ teaspoon kosher salt, plus more as needed
2½ cups vegetable stock
1 cup red lentils, rinsed and picked over
Creamy Cauliflower , for topping
3 (2-inch) thyme sprigs, for garnish
Directions
Grill the spring onions: Fill a large bowl with ice and water and set aside. Bring a large pot of water to a boil over high heat. Add 2 tablespoons of the kosher salt and the spring onions and boil for 1 minute. Using tongs, remove the spring onions and immediately plunge them into the ice water to stop the cooking and set their color. Transfer the spring onions to a clean kitchen towel, gently pat dry, and set aside.
Heat a grill to medium-high and lightly oil the grill grates with charred lemon–thyme oil.
In a large bowl, combine the charred lemon–thyme oil and remaining ⅛ teaspoon kosher salt and mix well. Add the spring onions and toss well to coat. Line up the spring onions side by side on a cutting board and thread about 5 skewers, one at a time, crosswise through all the spring onions at even intervals. Grill the spring onions, turning them a few times, until starting to char, about 5 minutes. Transfer to a plate and sprinkle with flaky salt. When cool enough to handle, remove the skewers.
Make the lentils: In a medium saucepan, warm the olive oil over medium-low heat until shimmering. Add the yellow onion and cook, stirring occasionally, until just starting to brown, about 10 minutes. Add the garlic and cook, stirring occasionally, until fragrant, 2 to 3 minutes. Dump in the berbere spice blend, tomato puree, and salt and stir until thoroughly incorporated.
Stir in the stock, followed by the lentils. Raise the heat to high, bring to a boil, then quickly decrease the heat to medium-low and cook until the lentils are tender and the mixture is thick, 30 to 45 minutes. Season with salt to taste.
To serve, place the spring onions on a large serving platter. Place the lentils in a bowl, and smear some creamy cauliflower on top of them (or top with a mounded scoop of creamy cauliflower) along with the thyme sprigs. Serve alongside the grilled spring onions.