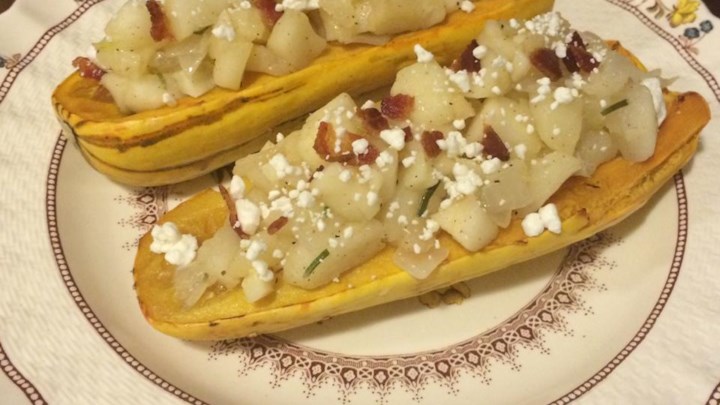 This macronutrient-rich dish is Gluten-free, Paleo, AIP-compliant, and
GAPS-friendly. Apple-Delicata Squash Porridge is simple to make,
tasty, and naturally sweet!
Apple-Delicata Squash Porridge is a perfect fall and winter breakfast, easy
to prepare, high in nutrients, nourishing and soothing, well enjoyed by
both kids and adults.

From Ayurvedic Point of View:
Apples are perfect for Kapha balancing. While raw, sour apples are Vata
and Pitta aggravating, cooked apples, on the other hand, help to create
Ojas and relieve constipation. Start every day with a stewed apple.
To combat the cold, Ayurveda suggests introducing a number of root
vegetables and winter squash to the diet. Vata Dosha will quickly get out
of control owing to the cooler conditions of the natural world, so squash
for Vata.
Servings: 3
Time to Prepare: 20 minutes
Ingredients
1 delicata squash
1/2 tsp. cinnamon
1/8 tsp. cloves
4 small or 2 large apples (unpeeled, flesh cut from the cores)
1/8 tsp. ginger
1/2 cup water
3 tbsp. slippery elm (optional for those on AIP)
2 tbsp. gelatin or up to 1/4 cup if eating the porridge hot (not
chilled as pudding)
2 tsp. maple syrup
Pinch of sea salt
Instructions:
Put whole, uncut delicata squash into the Pot. Add some apple
chunks; add the water. Ensure that the rubber ring is in place in
the Instant Pot lid, the lid is secure, and the steam valve is
locked. Choose Manual Cooking for 8 minutes.
When the timer goes off, allow the pressure to be released
automatically for 10 minutes; then press Cancel, open it to
relieve any residual pressure. Remove the lid and allow the Pot
to cool.
Put the delicata on a plate or cutting board when cold enough to
treat. Split the squash in half length-wise and remove the
seeds with a spoon (they come out very fast and easily). Put the
squash halves and the contents of the Pot (apples, broth, and
spices) in a blender.
Add the remaining ingredients available: slippery elm, gelatin,
maple syrup, ginger, clove, and salt. Blend for about 30 seconds,
until the mix is smooth. Serve with available toppings, or pour
into compact lunch containers