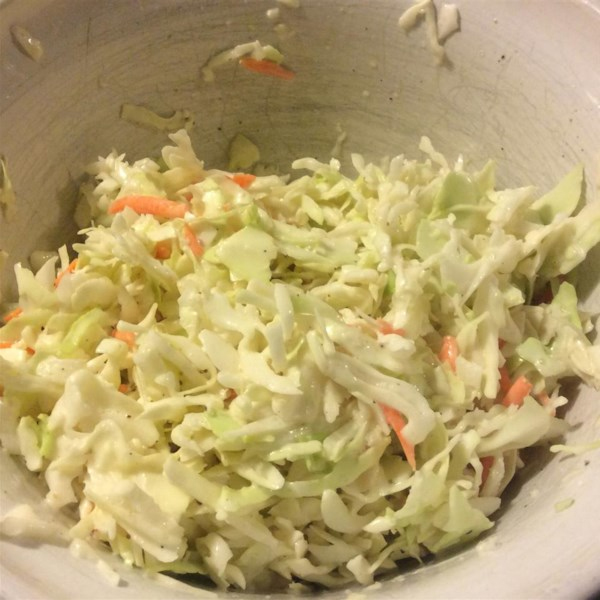 I can get down with vinaigrette-coated slaws, but this creamy version speaks to my soul. It evokes some of my fondest childhood memories and goes perfectly on my Cornmeal-Fried Oyster Mushroom Po'Boy . This is the coleslaw that I grew up eating. It is the coleslaw that my dad made most "fish fry" Fridays at our home in Memphis. It's the one that relatives would make for large family gatherings during summers, and it is the one that you will find at the innumerable rib joints for which my home city is famous. So what sets it apart from other slaws? I asked my dad to share the keys to making good Memphis-style coleslaw, and he said, "Lots of mayo and a touch of sugar and vinegar." Before he could finish, my mom chimed in, "Add a tiny bit of mustard and some celery seeds." So there you have it.
Ingredients:
½ small green cabbage (about 1 pound), cored and coarsely chopped
⅛ small red cabbage (about ¼ pound), cored and coarsely chopped
2 teaspoons kosher salt, plus more as needed
½ cup coarsely grated carrot
1 cup thinly sliced green bell pepper
½ cup thinly sliced red onion
¾ cup vegan mayonnaise
2 tablespoons unseasoned rice vinegar
2 tablespoons apple cider vinegar
2 teaspoons raw cane sugar
¼ teaspoon molasses
¼ teaspoon whole-grain mustard
⅓ teaspoon celery seeds
Freshly ground white pepper
Directions
Combine the cabbages and 2 teaspoons of the salt in a large bowl. With clean hands, massage the cabbage until soft and wilted, about 3 minutes. Transfer to a colander set in the sink and rinse the bowl. Put a plate atop the cabbage and weight it down (a 28-ounce can of tomatoes works well for this). Let sit for 1 hour.
Rinse the cabbage under cold water, then transfer it back to the bowl. Add the carrot, bell pepper, and onion. With clean hands, mix well.
In a small bowl, whisk together the mayonnaise, vinegars, sugar, molasses, and mustard. Pour just enough of the dressing into the bowl to moisten the slaw and mix well with clean hands. Add the celery seeds, taste, and season with salt and pepper. Cover and refrigerate for at least 1 hour.
Bring to room temperature and toss well before serving, adding a tad bit more dressing, if desired.