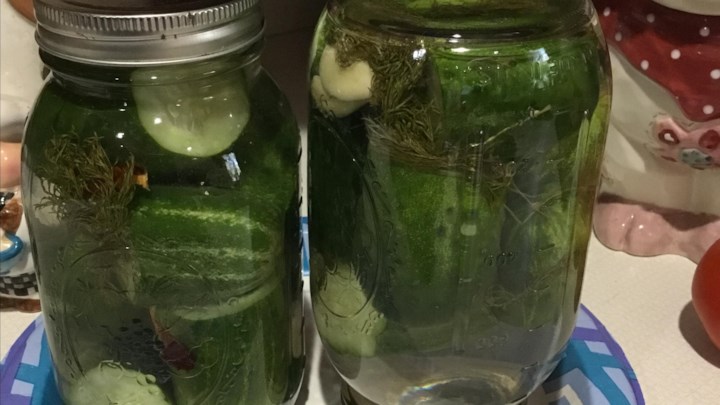 I'm not sure about other parts of the country, but in Memphis when I was growing up, eating whole dill pickles stuffed with sugar-sweet candy was a thing that Black kids did. I think it was an inventive way for young people to combine different foods to create a new trend. I remember the first time my big cousin Latrice let me try a bite of pickle with a peppermint stick stabbed in the middle—I must have been around seven years old. At that age, I found the flavor of dill pickles too intense to enjoy by itself, but I liked the interplay of the pickle's juicy, crunchy, and intensely sour flavor with the refreshing, cooling sensation of peppermint. I thought it was even more awesome to spike dill pickles with an orange Jolly Rancher or two. Inspired by that combination, I add orange peel and a touch of organic raw cane sugar to the brine I use for pickling fennel to give it citrusy sweetness. I mostly eat these pickles on sandwiches, but they also work well atop some grain-based salads and make a nice addition to party cheese boards.
Ingredient:
2 medium fennel bulbs, trimmed, halved lengthwise, and cored
2½ tablespoons kosher salt
1 cup unseasoned rice vinegar
2 tablespoons raw cane sugar
1 teaspoon dill seeds
6 whole black peppercorns
¼ teaspoon mustard seeds
Pinch of ground cinnamon
1 (2-inch) strip orange peel
2 large garlic cloves
1 bay leaf
Directions:
Thinly slice the fennel halves lengthwise on a mandoline. Transfer the fennel to a medium bowl, toss with 1 tablespoon of the salt, and set aside for 10 minutes, tossing every 2 minutes. Transfer the fennel to a colander, place the colander over the bowl, and let rest for 45 minutes to draw out excess liquid.
While the fennel is resting, sterilize a 1-quart canning jar and its lid and ring and set aside.
In a small saucepan, combine the vinegar, 1 cup water, the sugar, dill seeds, peppercorns, mustard seeds, cinnamon, orange zest, and remaining 1½ tablespoons salt. Bring to a simmer over medium-high heat and simmer until the liquid is hot to the touch and all the salt has dissolved.
Pack the fennel into the sterilized jar. Add the garlic and bay leaf, then pour the pickling liquid into the jar. Set aside to cool. Seal the jar and refrigerate for at least 1 day before using.