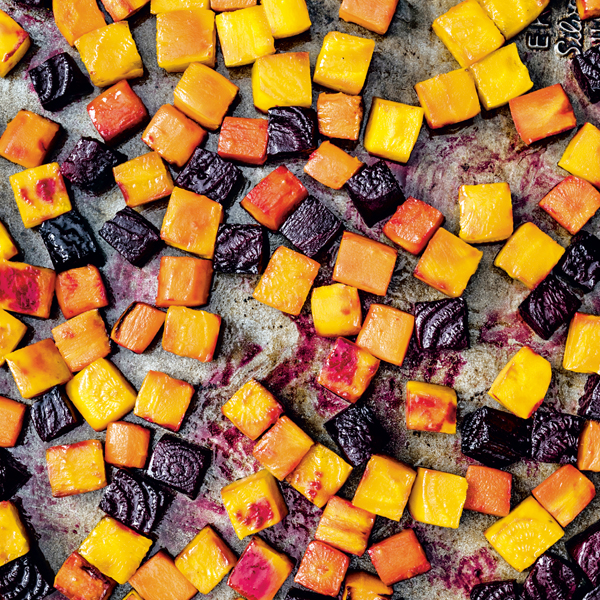 This is a fun salad that I like serving in cups. The magic of this dish is digging all the way to the bottom of the glass and scooping up dressing as you drag all the other ingredients into your mouth.
Ingredients:
roasted beets and carrots
1½ tablespoons extra-virgin olive oil
1 tablespoon white wine vinegar
2 teaspoons caraway seeds, toasted and ground
¼ teaspoon kosher salt
2½ cups ½-inch-diced red beets (about 1 pound)
2 cups ½-inch-diced golden beets (about 12 ounces)
1 cup ½-inch-diced orange carrots (about 8 ounces)
½ cup ½-inch-diced yellow carrots (about 4 ounces)
creamy citrus vinaigrette
⅓ cup silken tofu
2 tablespoons fresh navel orange juice
1 teaspoon finely grated lemon zest
2 tablespoons fresh lemon juice
2 tablespoons white wine vinegar
1 tablespoon dark agave nectar
1 teaspoon Dijon mustard
½ teaspoon minced garlic
¼ teaspoon kosher salt
3 tablespoons extra-virgin olive oil
Freshly ground white pepper
to finish
½ cup roasted salted pistachios, chopped
¼ cup packed coarsely chopped fresh cilantro, plus ½ cup loosely packed whole fresh cilantro leaves
Directions
Make the roasted beets and carrots: Preheat the oven to 375°F. Line two baking sheets with parchment paper.
In a large bowl, combine the olive oil, vinegar, caraway, and salt and mix well. Add the beets and carrots and toss well with clean hands to combine.
Pour the vegetables onto the prepared baking sheets, spread them into one layer, tightly cover the baking sheets with aluminum foil, and roast until just tender, about 45 minutes. Remove the foil and roast for 15 minutes more, stirring every 5 minutes. Remove from the oven and let cool.
Make the citrus vinaigrette: While the vegetables are roasting, in a blender, combine the tofu, orange juice, lemon zest, lemon juice, vinegar, agave, mustard, garlic, and salt. Blend until smooth. With the blender running, slowly pour in the olive oil through the hole in the lid and blend until emulsified. Season with white pepper and set aside until ready to serve.
To serve, arrange four wide-mouth jars on a work surface. Pour 2 tablespoons of the dressing into each of the jars and evenly divide the beets and carrots among them. Top each jar with 2 tablespoons of the pistachios and evenly divide the cilantro among the jars. Serve immediately or cover the jars and refrigerate until ready to serve.