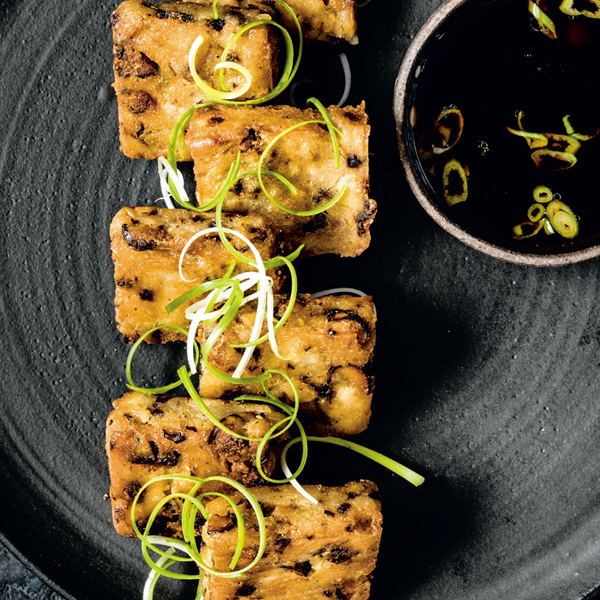 I like small-plate meals: leisurely dining with a group of folks and ordering a diversity of things. In fact, some of my most memorable meals involve tapas at Spanish bars, small bites at Japanese izakayas, and dim sum at Chinese restaurants. If you've never had dim sum, it is a traditional meal of steamed, fried, and baked small-bite portions of foods like dumplings, various meats and seafood, noodles, and buns. Hands down, my favorite dim sum dish is turnip or radish cakes (the meat-free version), a dish traditionally made of Chinese turnips, rice flour, sausage, and dried shrimp. The cakes are steamed and then fried. Several years back, at an all-vegetarian dim sum restaurant in San Francisco, I was amped to get turnip cakes, but they weren't on the menu. Instead, they offered taro cakes, which are similar to turnip cakes but a little denser. They are primarily composed of taro and rice flour, and are steamed and fried like turnip cakes. This is my take on them. I add diced shiitake mushrooms and cured black olives to deepen the flavor. After cutting the cake in half widthwise, I suggest cutting each cake into 2-inch squares. Feel free to vary the size of the cakes to suit your needs.
Ingredients:
1 tablespoon plus ½ teaspoon kosher salt
1¼ pounds taro roots, peeled and diced
2 tablespoons peanut oil, plus more as needed
½ cup finely diced yellow onion
8 ounces shiitake mushrooms, stemmed and finely chopped
1 tablespoon Umami Powder
½ cup finely chopped pitted oil-cured black olives
2 tablespoons thinly sliced scallion
1 teaspoon minced garlic
1¾ cups rice flour
¼ cup arrowroot powder
1 tablespoon shoyu
Shoyu-Chili Dipping Sauce
Directions:
In a large pot, bring 3 quarts water to a boil over high heat. Add 1 tablespoon of the salt and the taro. Boil, partially covered, until the taro is fork-tender, about 25 minutes. Drain the taro in a colander and let cool for 15 minutes. Transfer the taro to a medium bowl and mash with a fork until relatively smooth.
Meanwhile, in a large skillet or a wok, warm the peanut oil over medium heat until shimmering. Add the onion and cook, stirring often, until it is soft and translucent, about 5 minutes. Add the shiitake mushrooms and porcini powder and sauté until the shiitakes have released their liquid and are soft, about 5 minutes. Add the olives, scallion, and garlic and cook until the garlic smells fragrant, about 2 minutes. Set aside.
In a large bowl, combine the rice flour, arrowroot, and remaining ½ teaspoon salt. While whisking, slowly pour in 1¼ cups water and the shoyu and whisk until the batter is smooth, adding more water by the tablespoon if needed. With a wooden spoon, mix in the mashed taro and the onion-mushroom mixture until well blended. Set aside to rest for 30 minutes.
Generously oil an 8-inch cake pan. Stir the batter, then scrape it into the prepared pan.
Place a steamer basket or a colander in a large stockpot and fill the pot with enough water to reach the top edge of the steamer. Place the pan with the batter in the steamer, cover the pot, and set the pot over high heat. Steam until the batter is set, about 30 minutes.
Unmold the taro cake onto a clean cutting board and let cool until firm enough to slice cleanly, about 15 minutes. Cut the taro cake in half widthwise, then cut each half into 2-inch squares.
Coat a large skillet with peanut oil and heat over medium-high heat until shimmering. Working in batches, add the taro cakes and fry until golden brown and crisp, about 2 minutes per side.
Transfer to a platter and serve the hot, crisp cakes with the dipping sauce on the side.