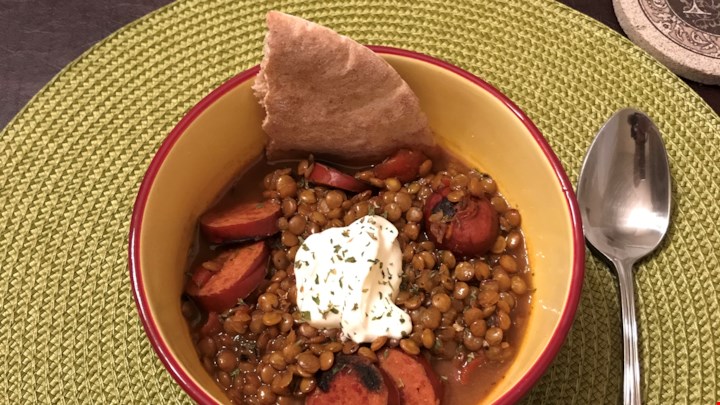 When I'm low of time, I enjoy this recipe. Instant Pot Lentil Chili is
prepared in less than 30 minutes and is a tasty, delicious vegetarian/vegan
meal.
From Ayurvedic Point of View:
For vegetarians, beans , dals, and lentils are an essential source of
nutrition—protein, complex carbohydrates, fiber, and vitamins. As
versatile as they are tasty, dals and lentils are used to make salads,
appetizers, soups, main dishes, side dishes, and desserts, too. They fit well
with other foods, such as grain, vegetables, herbs, and spices.
Servings: 6
Time to Prepare: 30 minutes
Ingredients:
2 cups dry lentils picked (rinsed and drained)
1 tbsp. olive oil
1 tbsp. chili powder
1 tsp. cumin powder
1 medium onion (chopped)
3-4 cloves garlic (minced)
1/4 tsp. pepper
1-1/2 cups crushed tomatoes
3 cups low-sodium vegetable broth
2 carrots (chopped)
1 celery stalk (chopped)
1/2 tsp. coriander powder
1 tsp. dried oregano
1/2 tsp. dry mustard
1/4 tbsp. cayenne pepper (optional)
Salt to taste
Instructions:
On Instant Pot, select the Sauté settings. Add the oil and let it
heat up.
Add the onion, garlic, carrots, and celery. Sauté until the onions
are softened and lightly browned for around 4 minutes.
Add chili powder, cumin, coriander, oregano, mustard, and
cayenne (if you like some heat) and mix well for a minute or
two. Add tomatoes, lentils, broth, salt, and pepper to match.
Click the "Cancel" button, and then close the lid. Turn the steam
release handle to the Sealing position.
Select Bean/Chili and set the time for 14 minutes (Note: if you
use red lentils, the cooking period would be less than ~ 7-8
minutes).
Click "Cancel" and let Instant Pot automatically relieve for 10
minutes before the float valve drops and the lid unlocks.
Then turn the steam release valve to Venting until the float
valve drops down and lid unlocks.