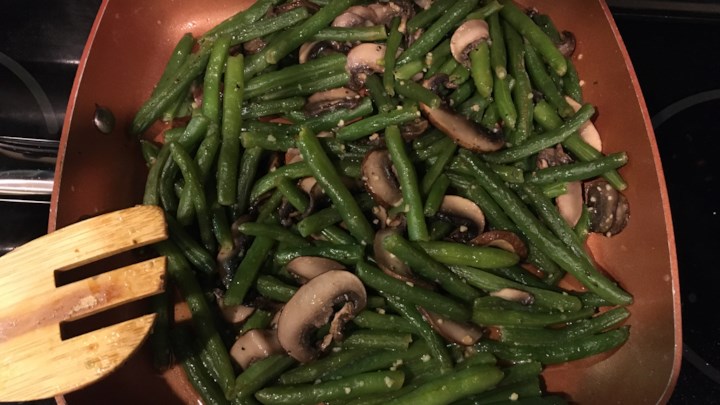 make refrigerator pickles often during the summer. Quick pickling is a fun way to preserve surplus vegetables from your garden or local farms, and it is a great way to use odds and ends from leftover vegetables after making a dish. Either way, the method in this recipe can be adapted using any number of fresh vegetables, so experiment to see what works for you. The combination of vegetables and Southeast Asian-inspired brine is a nod to one of my favorite dishes in Thai cuisine—green papaya salad. Instead of using papaya, however, I call for julienned carrots for a twist, and I suggest serving the pickled vegetables inside lettuce cups.
Ingredients:
4 large orange carrots (about 1 pound), peeled and julienned
4 ounces green beans, trimmed
8 grape tomatoes, halved
3 Thai chiles, stemmed, seeded, and julienned
1 (3 by 5-inch) strip kombu
1 whole garlic clove, peeled
8 whole black peppercorns
1¾ cups unseasoned rice vinegar
1 cup distilled white vinegar
3 tablespoons fresh lemon juice
2 tablespoons fresh lime juice
1 tablespoon tamari
½ cup coconut palm sugar
1 tablespoons kosher salt, plus more for serving
24 butter lettuce leaves (from about 3 large heads)
½ cup chopped toasted peanuts
¼ cup chopped fresh cilantro
Directions:
Pack the carrots, green beans, tomatoes, chiles, kombu, garlic, and peppercorns into a sterilized quart-size canning jar.
In a medium saucepan over medium-high heat, combine the vinegars, 2 tablespoons of the lemon juice, the lime juice, tamari, sugar, and salt and simmer until hot to the touch and the sugar and salt have dissolved. Remove from the heat to cool for 15 minutes. Pour into the canning jar and set aside to cool completely. Cover with a lid and refrigerate overnight to let the flavors develop, removing the kombu after 2 hours.
To serve, place the lettuce leaves in a large bowl and drizzle with the remaining 1 tablespoon lemon juice and a sprinkle of salt. Gently toss to coat the leaves.
Next, arrange one large lettuce leaf and one small lettuce leaf on a serving platter, overlapping the leaves slightly to form a cup. With tongs, lift enough vegetables from the brine to fill the cup and place in the center of the lettuce leaf cup. Repeat with the remaining lettuce and vegetables. Sprinkle with the peanuts and cilantro before serving.