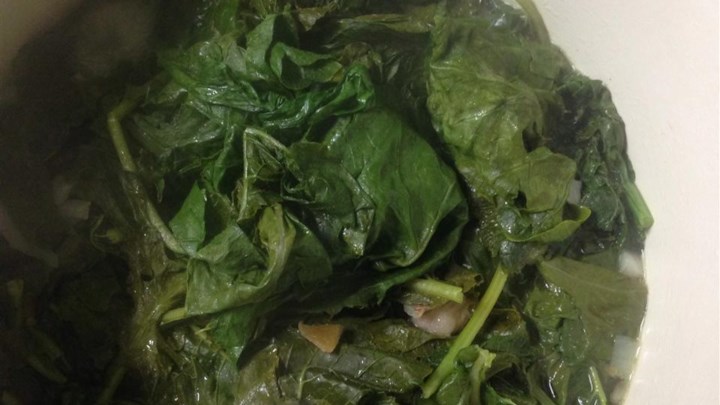 I was one of those people who rolled my eyes when parents talked about having to "sneak" vegetables into their kids' meals. Because my elder daughter, Mila, has such a voracious appetite for vegetables, I assumed that those parents were doing it all wrong. If those parents had just introduced their kids to a variety of vegetables early on, their kids would love veggies, too. Or so I thought. Well, life comes at you fast. My younger daughter, Zenzi, is the polar opposite of our big girl. When she was younger, we had to practically force her to eat anything, let alone vegetables. She's gotten more adventuresome over the years, but I'm always thinking of fun ways to creep veggies into her food. Since Zenzi loves pasta in any form, I was confident she would devour this dish—and she did. The technique is inspired by the homie Adam Mansbach's broccoli rabe and orecchiette.
Ingredients:
2½ pounds turnip greens, washed
1 tablespoon kosher salt, plus more as needed
6 tablespoons extra-virgin olive oil
3 large garlic cloves, thinly sliced
¾ pound spinach or whole-wheat penne rigate
Red pepper flakes, for garnish (optional)
½ cup Umami Powder
Freshly ground white pepper
Directions:
Remove the tough stems from the turnip leaves. Next, stack four or five leaves, roll them into a tight cylinder lengthwise, and slice crosswise into thin ribbons. Repeat with the remaining leaves.
Bring a large pot of water to a boil and add the salt. Add the turnip greens, bring the water back to a rolling boil, and blanch the greens for 1 minute. Using a spider, lift the greens from the water, transfer them to a colander, and set aside to cool, reserving the water in the pot. Once the greens have cooled, roughly chop them and set aside.
Warm a large Dutch oven over medium-low heat. Add the oil and heat until shimmering. Scrape in the garlic, spreading it in one even layer with a fork. Sauté, without disturbing, until the garlic is just starting to turn golden, 3 to 4 minutes. Strain the oil into a small heatproof bowl and transfer the garlic to a small bowl. Add 4 tablespoons of garlic oil and the reserved greens to the Dutch oven and cook, stirring often, until the greens are well-coated with oil, about 3 minutes. Set aside.
Bring the just-used water to a boil. Add the pasta and cook, following the instructions on the package, until al dente. Drain the pasta, reserving 1 cup of water. Add the pasta and reserved water to the Dutch oven with the greens and cook over high heat until the liquid is almost evaporated, 3 to 4 minutes. Mix well and season with salt to taste.
To serve, divide the pasta evenly among plates and sprinkle with the crispy garlic, red pepper flakes, and umami powder. Drizzle with garlic oil and finish with freshly ground white pepper.