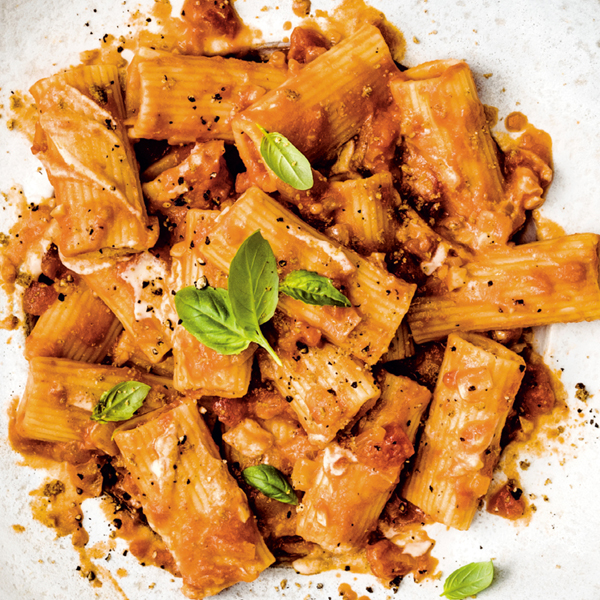 I dedicate this recipe to my baby girl, Zenzi, who would be happy if all she could eat was bread, crackers, and (you guessed it) pasta. This easy, delicious weeknight recipe is one of her favorites. The first time I made it, she asked why I used rigatoni instead of penne, her favorite at the time. I told her the big, hollow shape of rigatoni is perfect for tucking more sauce into each bite. She agreed. I like serving this with Broccolini, which I blanch and toss in olive oil. Usually, I encourage Zenzi to eat her veggies before she has her pasta, for obvious reasons.
Ingredients:
2 tablespoons extra-virgin olive oil
1 cup finely chopped white onion
4 garlic cloves, minced
½ teaspoon coarse sea salt, plus more as needed
2 tablespoons tomato paste
1½ cups canned crushed tomatoes, with their juices
¾ cup water
1 cup Sunchoke Cream
Freshly ground white pepper
1 pound rigatoni
Umami Powder , for serving
¼ cup torn fresh basil leaves
Red pepper flakes, for serving (optional)
Directions:
In a medium saucepan, warm the olive oil over medium-high heat until shimmering. Add the onion and sauté until it starts to brown, 6 to 8 minutes. Add the garlic and salt and cook until the garlic is browning and smells fragrant. Stir in the tomato paste and mix well. Pour in the canned tomatoes with their juices and the water and mix well. Decrease the heat to low, cover, and simmer, stirring occasionally to prevent the sauce from sticking to the bottom of the pan, for 15 minutes. Pour in the sunchoke cream, stir well, and simmer for a few minutes to warm through. Season with salt and white pepper to taste. Remove from the heat and set aside.
Bring a large pot of water to a boil over high heat. Generously salt the water, then gently drop in the pasta. Cook, stirring occasionally, until al dente, 10 to 12 minutes. Drain the pasta and toss it with the sauce in a large bowl.
To serve, divide the pasta and sauce among individual serving bowls, generously dust with umami powder, and garnish with the basil. Finish with a few turns of white pepper (and red pepper flakes, if you'd like), then serve.