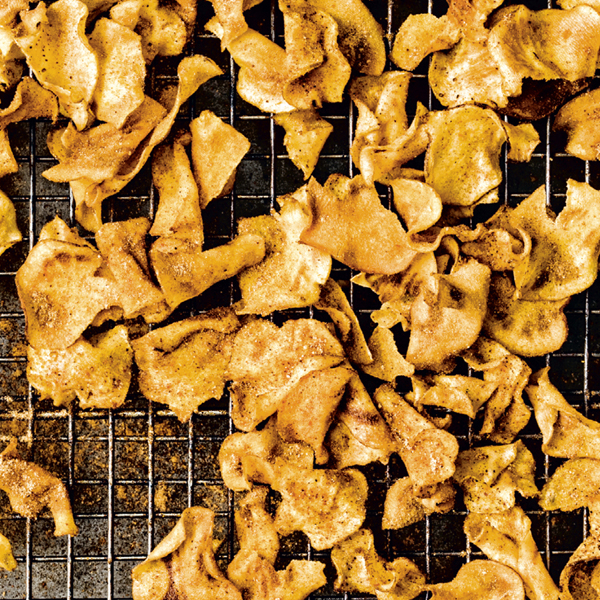 If you've never eaten sunchokes—also known as Jerusalem artichokes, earth apples, and sunroot—don't be intimidated. Think of them as a cooler cousin of potatoes. While many conventional supermarkets carry them these days, you are most likely to find them at specialty grocery stores and farmers' markets when they are in season from fall through spring (they reach peak flavor in winter). If you like barbecue potato chips, you'll love these barbecue sunchoke chips, which are a great introduction to this edible tuber. The peanut oil in which they are fried is a perfect complement to the slightly nutty and savory profile of sunchokes, and the barbecue seasoning is 100!
I like to eat these with an ice-cold beer while binge- watching episodes of Sanford and Son. Sometimes I just repeat the "Lamont Goes African" episode from season 2, where he reinvents himself by adopting a Congolese name (Kalunda, because Lamont is a "slave name"), wearing a dashiki, and making Fred get rid of all the pork in the house because "the human body was not designed to digest pork." That whole episode is filled with gems.
Ingredients:
1 teaspoon fresh lemon juice
1 teaspoon fine sea salt, plus more as needed
1 pound large sunchokes, scrubbed
2 tablespoons BBQ Seasoning
Peanut oil, for frying
Directions
Fill a large bowl halfway with cold water and mix in the lemon juice and salt.
With a mandoline or a sharp chef's knife, cut the sunchokes into paper-thin slices, as long and thinly as possible, sliding them into the cold water as you slice them. Drain them in a colander and rinse them well, then dry them between two clean kitchen towels.
Pour the BBQ seasoning into a large paper bag, add a pinch of salt, and set aside. Line two large baking sheets with paper towels.
Fill a deep, heavy pot with peanut oil to a depth of 3 inches and heat the oil over high heat to 370°F. Working in batches, carefully drop a large handful of the sunchokes into the hot oil, stir them a few times with a fork to prevent them from sticking together, and cook until golden, 2 to 3 minutes. Using a spider, transfer them to the prepared baking sheets to drain. Repeat to fry the remaining sunchokes.
When all the sunchoke chips are fried, quickly pour them into the bag with the seasoning. Fold the bag over a few times, then shake vigorously to coat the chips in the seasoning. Pour the chips into a bowl and serve. They should last a few days sealed in a bag, but I doubt they make it past one sitting.