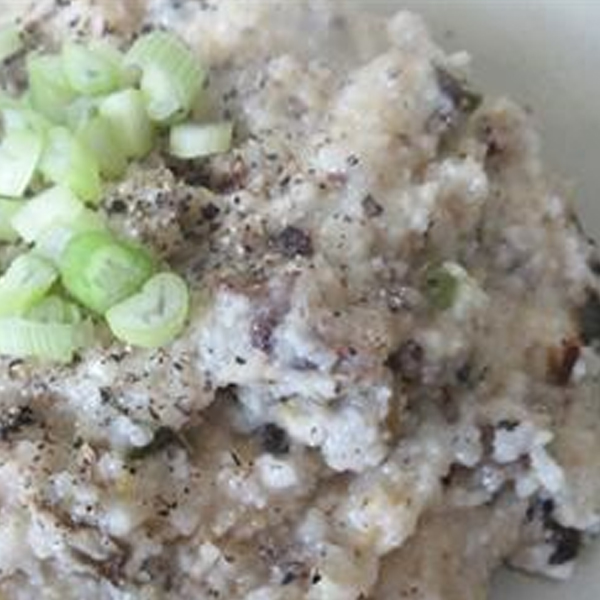 The idea of combining beans with grits came during a meal at Kin Khao, a fantastic Thai restaurant in San Francisco. One of the starters was nam tok beans, a combination of ayocote negro beans with lime, chile, rice powder, light soy sauce, shallots, scallions, mint, and cilantro. The mix of flavors was impeccable, and the plump, meaty texture of the beans stood out. I immediately thought, "I have to use these in a recipe," and I later came up with the idea of adding them to a New Orleans—inspired tomato gravy to pour over grits. Now, you might be thinking, "Beans and grits? That's an odd combination!" I thought the same thing, but I was reassured by the heirloom bean whisperer Steve Sando, owner of Rancho Gordo, who reminded me that beans and corn are natural together.
I had been meditating on creative ways to use sunchokes for a minute. Having mostly eaten them deep-fried, as a garnish, I was pleasantly surprised at how tasty they are prepared as a mash (similar to mashed potatoes). I thought folding a sunchoke puree into creamy grits would be a good look. Sunchokes, or Jerusalem artichokes, are complex-flavored tubers; they are slightly sweet and nutty, with an earthy flavor profile that adds depth and a little smokiness to grits. For those not accustomed to the unique flavor of sunchokes, you may want to start out with ¼ cup of the puree. If you love it, use ½ cup.
If you can't find ayocote negro beans (also known as black runner beans) in your area, hit up Rancho Gordo and order a few bags (get some Royal Corona beans for the Big Beans, Buns, and Broccoli Rabe recipe o, while you're at it). Make sure you soak the grits in stock overnight to reconstitute them and shorten their cooking time. If possible, make the sunchoke puree ahead of time to keep things moving once you start this recipe.
Ingredients
grits
¾ cup yellow stone-ground grits
3 cups vegetable stock
tomato gravy
⅓ cup dried black runner beans, soaked overnight in water plus 1 tablespoon kosher salt
1 bay leaf
1 large yellow onion: half diced, half left intact
5 garlic cloves: 3 cut in half, 2 minced
1 dried red chile
1 teaspoon kosher salt, plus more as needed
¼ cup peanut oil
2 tablespoons millet flour
1 tablespoon sun-dried tomato paste
1 (15-ounce) can diced tomatoes, with their juices
2 cups vegetable stock
2 tablespoons Cashew Cream
Freshly ground black pepper
sunchoke puree
1½ pounds sunchokes, gently peeled
1 teaspoon coarse sea salt
2 tablespoons peanut oil
to finish
1 teaspoon coarse sea salt, plus more as needed
1 cup vegetable stock
Freshly ground white pepper
Habanero hot sauce
½ cup chopped scallions
Directions:
Place the grits in a large bowl, add the stock, and set aside to soak overnight.
Make the tomato gravy: Drain and rinse the beans. Put them in a medium saucepan and add enough water to cover them by 2 inches. Add the bay leaf, onion half, halved garlic cloves, and dried chile. Bring the water to a boil over high heat. Skim off any foam and decrease the heat to medium-low. Partially cover and simmer until just tender, 45 minutes to 1 hour (the cooking time will greatly depend on the freshness of the beans). Once the beans are just tender, add the salt and simmer for 10 more minutes. Drain the beans. Remove the bay leaf, onion, garlic, and chile and discard them.
In the same saucepan, warm the oil over medium heat until shimmering. Add the diced onion and garlic and cook until soft, about 5 minutes. Stir in the millet flour and cook, whisking continuously, until the flour starts to darken a bit, about 10 minutes. Whisk in the tomato paste. Stir in the tomatoes and their juices and the stock. Carefully transfer the mixture to a blender, puree until smooth, then return it to the pot. Decrease the heat to low and add the reserved beans to the sauce. Simmer for about 30 minutes. Add the cashew cream and simmer for 5 more minutes. Taste and season with salt and black pepper.
Make the sunchoke puree: While the tomato gravy is cooking, in a medium saucepan, bring 4 cups water to a boil over high heat. Decrease the heat to medium-low, add the sunchokes and salt, and simmer until fork-tender, 15 to 20 minutes. Combine the sunchokes and their cooking water with the peanut oil in a blender and blend until creamy. Use a silicone spatula to scrape the puree into a small bowl and set aside.
Finish the grits: Skim any hulls or chaff that has risen to the top of the soaking liquid, then pour the grits and their soaking liquid into a medium saucepan. Add the salt and bring to a boil over high heat, whisking vigorously until no lumps remain. Decrease the heat to low. Simmer, whisking occasionally to prevent the grits from sticking, until the grits have absorbed most of the liquid and are beginning to thicken, 2 to 5 minutes. Add the stock and simmer for 10 minutes, whisking occasionally, until most of the liquid has been absorbed.
Keep the heat on low, whisking frequently, until the grits are soft and fluffy, about 30 minutes.
Stir ¼ to ½ cup of the sunchoke puree into the grits and season with salt and white pepper to taste. The grits should be slightly firm and creamy. Add water to thin them, if necessary.
To serve, ladle equal portions of the grits into shallow soup bowls. Top each serving with tomato gravy. Garnish with a few dashes of hot sauce, the scallions, and a few turns of white pepper, then serve.