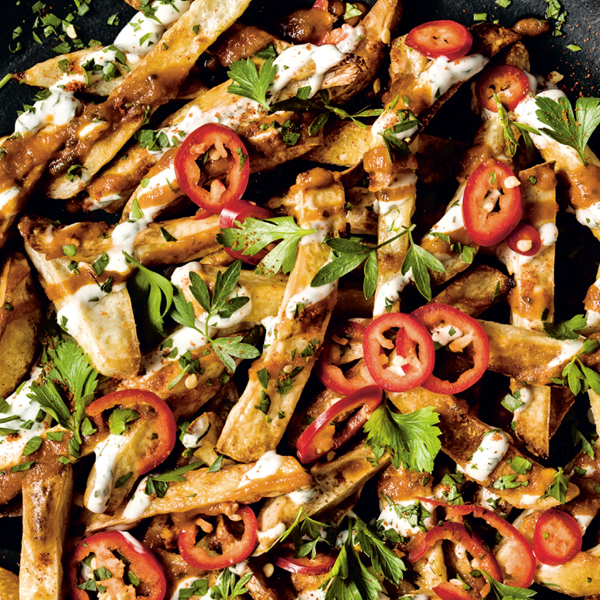 Back in 2014, I was a guest speaker at the thirtieth Veg Food Fest in Toronto, and I had a ball! I gave a talk to hundreds of people about the contemporary food justice movement in the United States, followed by a cooking demonstration and book signing of Afro-Vegan. To all my fans in The 6ix and throughout Canada, much respect! For real. Y'all showed me so much love that weekend and continue to send good vibes and support from afar (shout-out to NeedleGroove in Montreal). Anyway, some of the organizers took me out on the town that night, and we hit up a few bars for drinks and bites. This is when I was introduced to a vegan version of poutine, a Canadian dish of French fries topped with cheese curds and brown gravy. Can't say I was sold on poutine (no offense, friends), but it did inspire this recipe. I like the concept: crisp French fries with a mélange of mouth-watering toppings. So I play off that structure here using batons of taro (instead of potatoes) topped with spicy pili pili sauce, Fresno chiles, a dusting of cayenne, and creamy herb-infused aioli to calm down all that heat. Sh***************t. This is pro-level snack food. Trust me, you will need a stack of serviettes to wipe all the remnants of that yummy sauce from your mouth and fingers when you're done!
Ingredients:
green herb aioli
1 cup vegan mayonnaise
¼ cup minced fresh parsley
1 tablespoon minced garlic
1 teaspoon fresh lemon juice
1 teaspoon minced fresh thyme
⅛ teaspoon fine sea salt
fries
¼ cup extra-virgin olive oil
½ teaspoon fine sea salt
2 pounds fresh taro root, peeled and cut into ½-inch-thick fries
Pili Pili Sauce
2 Fresno chiles, thinly sliced
2 tablespoons minced fresh parsley, plus ⅓ cup loosely packed whole leaves
Cayenne pepper (optional)
Directions:
Make the aioli: In a food processor, combine all the ingredients for the aioli and puree until the mixture is green. Transfer to a squeeze bottle and set aside.
Make the fries: Position a rack in the upper third of the oven and preheat the oven to 425°F. Line a baking sheet with parchment paper.
In a large bowl, combine the olive oil and salt and mix well with a fork to combine. Set aside.
Spread the fries in a single layer on the prepared baking sheet and bake for 15 minutes, turning them every 5 minutes to ensure even cooking. Remove the fries from the oven and gently pour them into the bowl with the oil and salt. Toss to coat evenly, return them to the baking sheet, and bake for 10 to 15 minutes more, until the fries are browning and crisp.
To serve, transfer the fries to a large plate and generously sprinkle with pili pili sauce. Generously squirt the aioli over the top. Top with the Fresno chiles and parsley. If you really want to take this dish to the next level of heat, sprinkle the fries with some cayenne. Serve immediately.
"Unstoppable (feat. Santigold & Lil Wayne)" by Drake from So Far Gone
boiled taro
salt • cinnamon • vanilla—coconut palm sugar syrup
makes 4 servings
Sometimes we just have boiled taro around the house to snack on. I add a cinnamon stick to the water to infuse the taro with its distinctive flavor and make a simple syrup of coconut palm sugar for dipping.
1 cup coconut palm sugar
1 vanilla bean, split lengthwise and seeds scraped out
1 tablespoon kosher salt
1 (2-inch) cinnamon stick
4 apple-size taro roots, scrubbed
In a small saucepan, combine the sugar, vanilla bean pod and seeds, and ½ cup water. Bring to a simmer over medium-high heat, stirring until the sugar has completely dissolved, about 3 minutes. Set the syrup aside.
In a medium saucepan, bring 2 quarts water to a boil over high heat. Add the salt, cinnamon stick, and taro. Lower the heat to medium and simmer until the taro is fork-tender, about 30 minutes. Drain and set aside to cool. Once the taro is cool enough to handle, peel it and cut it into chunks.
Serve the taro in a bowl, drizzled with the simple syrup, along with a bowl of the simple syrup.