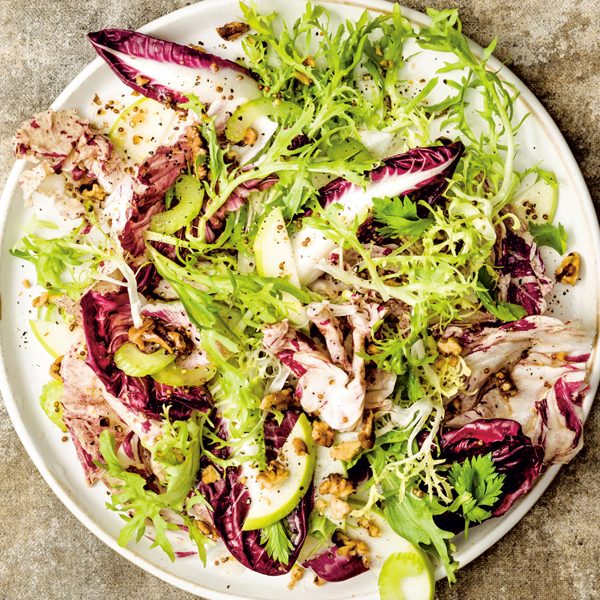 People most often associate salads with summertime, but I need *clap* my *clap* bitter *clap* leaves *clap* during the colder months. Belgian endive, curly endive, radicchio, frisée, escarole. Give me all the chicories! I think it might be more accurate to describe these as bittersweet greens, since they often have a subtly sweet earthy flavor that follows their initial bite. This salad is my ode to winter roughage. I know this might sound dramatic, but there is a symphony in my mouth when I'm eating this dish—the title says it all. If you aren't into bitter vegetables, this salad might change your mind. Bitter is an underappreciated flavor in the American palate. Plus, the assertive dressing balances the acerbic flavor of the leaves. In all my recipes, I encourage you to use what is freshest and most easily accessible. In that spirit, feel free to use your favorite bittersweet greens for this salad. And stretch beyond the common Chioggia radicchio, most often found at supermarkets, and include heirloom varieties such as Treviso Tardivo and Castelfranco, if you have access to them.
Ingredients:
sweet mustard vinaigrette
2 tablespoons apple cider vinegar
1 tablespoon fresh lemon juice
2 teaspoons light agave nectar
1½ teaspoons coarse-grain mustard
Kosher salt and freshly ground white pepper
5 tablespoons walnut oil
salad
5 ounces radicchio (1 small head), cored and torn into bite-size pieces
3 ounces frisée (1 medium head), white and light green parts only, torn into bite-size pieces
2 celery stalks, strings removed , thinly sliced on an angle, plus ½ cup celery leaves for garnish
1 Granny Smith apple, cored and thinly sliced using a mandoline or sharp knife
Kosher salt
½ large lemon
½ cup walnut halves, toasted, for garnish
Freshly ground black pepper
Directions
Make the vinaigrette: In a blender, combine the vinegar, lemon juice, agave, mustard, a pinch of salt, and a few turns of white pepper. With the blender running, slowly pour in the walnut oil through the hole in the lid and blend until emulsified. Taste and season with salt and white pepper and set aside.
Make the salad: In a large bowl, combine the radicchio, frisée, celery, and apple. Sprinkle with salt, then squeeze the juice from the lemon half over the top. With clean hands, toss the salad leaves. Add just enough vinaigrette to lightly coat the leaves, then toss.
To serve, divide the salad evenly among individual plates, sprinkle with the walnuts, and garnish with the celery leaves. Drizzle with more vinaigrette, give each salad a few turns of black pepper, and serve.