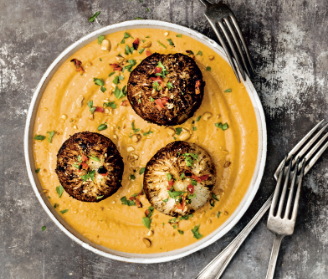 lot of people have never heard of kohlrabi, and those who have are often reluctant to try it since it looks a little like an alien when the bulb is held upright and the stems and leaves are hanging below it. I've experimented with many ways of preparing this cruciferous vegetable, but roasting it on charcoal is my favorit, this kohlrabi takes on the smokiness of the coals after sitting over them for at least an hour. Use chunk/lump charcoal as opposed to briquettes, as the latter typically have chemicals that you don't want near your food. If you aren't able to roast the kohlrabi over coals, place them on a baking sheet over a bed of kosher salt and roast them in the oven at 450°F until charred on the outside and tender on the inside, about 1½ hours.
I serve the kohlrabi with a chunky peanut sauce. You'll have enough to use elsewhere (it freezes well), but don't be stingy with it when serving this recipe. To make it a meal, pull together a green salad, fry some green plantains, and make my Farro and Kidney Beans with Burnt Scallions .
Ingredients:
peanut sauce
1 tablespoon peanut oil
1 cup finely diced yellow onion
1 tablespoon minced garlic
½ teaspoon cumin seeds, toasted and ground
1 teaspoon kosher salt, plus more as needed
¼ cup tomato paste
1 tablespoon Bragg Liquid Aminos
¾ cup crunchy unsalted peanut butter
5 cups vegetable stock
2 tablespoons ginger juice
1 habanero chile, stem intact
kohlrabi
8 Fresno chiles, finely chopped
8 medium kohlrabi (6 to 9½ ounces each)
1 cup crushed roasted peanuts
¼ cup chopped fresh parsley
Flaky sea salt and freshly ground white pepper
2 tablespoons finely-grated lemon zest
Directions
Make the peanut sauce: In a Dutch oven, warm the peanut oil over medium-high heat until shimmering. Add the onion and cook until soft, 3 to 4 minutes, then add the garlic, cumin, and salt and stir well to combine. Decrease the heat to low, add the tomato paste and liquid aminos, and cook, stirring often, until the tomato paste starts to darken, about 5 minutes. Stir in the peanut butter and mix well to combine. While stirring, pour in the stock and ginger juice. Add the habanero and simmer, partially covered, stirring occasionally, for 1 hour. Remove and discard the pepper, season the sauce with salt, and set aside.
Make the kohlrabi: Position an oven rack as close as possible to the broiler heat element and preheat the broiler to high.
Place the chiles on a baking sheet, cut-side down, and broil until they are soft and starting to blacken, about 1 minute. Remove from the oven and set aside.
Arrange a generous pile of chunk/lump charcoal in one even layer at the bottom of a grill. Light the charcoal.
When the coals turn white, place the kohlrabi directly on the coals and roast, turning often to ensure even cooking, until the skin is blackened and the interior is tender, 1 to 1½ hours. Poke the kohlrabi with a metal skewer to judge doneness; it should slide in easily with very little resistance. Transfer to a plate to cool. Once the kohlrabi are cool enough to handle, peel them.
Right before serving, warm the peanut sauce over medium heat, adding water to loosen it if necessary.
To serve, generously spread peanut sauce over a serving plate, arrange the kohlrabi on top, then garnish with the chiles, peanuts, and parsley. Sprinkle with flaky salt and lemon zest, a few turns of white pepper, and serve.