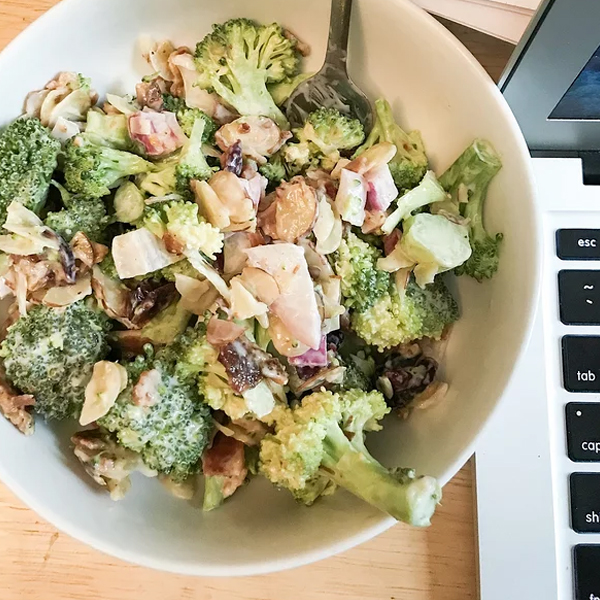 Whether I'm using spring and summer varieties like butter, red leaf, and romaine or fall and winter bitter leaves like radicchio, chicory, and frisée, I incorporate salad greens into hearty salads throughout the year. These leaves are all great bases, and the possibilities are limitless from there. Add other cooked and raw vegetables, dried fruits, and proteins to take them to the next level. Croutons, nuts, and seeds are great finishers that add texture and visual interest. Experiment with different homemade dressings and vinaigrettes for a final coat. To get the most flavor from your dressing, sprinkle your salad with salt and give it a generous squeeze of fresh lemon juice right before lightly tossing with the dressing.
red rice with spring vegetables
asparagus • spring peas • sugar snap peas
In case you don't know, there is some serious debate among West Africans about the origins and supremacy of jollof rice (there is a particularly fierce rivalry between Ghanaians and Nigerians). I keep my Black American a** out of that dispute. In fact, I refuse to call my version "jollof." I stick with the neutral "red rice" to play it safe. This is my latest iteration of a jollof-inspired rice. I like it a little wet, so I include ample tomato juice and stock. This version is a distinctly spring dish, with bright, just-tender peas and asparagus topping the rich, tangy, umami-filled rice.
Ingredients
1 cup brown basmati rice, rinsed and soaked in water overnight
3 tablespoons peanut oil
1 cup finely diced yellow onion
1 green bell pepper, finely diced
1 large habanero chile, seeded and finely diced
1 tablespoon minced garlic
½ teaspoon paprika
½ teaspoon chili powder
¾ teaspoon kosher salt
1 cup tomato paste
1 tablespoon Bragg Liquid Aminos
1½ cups canned diced tomatoes, with their juices
2½ cups vegetable stock
8 ounces asparagus, trimmed and sliced on an angle into 1-inch pieces
1⅓ cups shelled fresh spring peas (a little over 1 pound in their pods)
4 ounces sugar snap peas, trimmed and sliced in half on an angle
1 teaspoon Pili Pili Oil for drizzling
1 large lemon, halved
Drain the rice and set it aside.
Directions:
In a medium saucepan, warm the peanut oil over medium heat until shimmering. Add the onion and bell pepper and sauté, stirring often, until well caramelized, 10 to 15 minutes. Add the habanero and garlic and cook until the vegetables are soft and the garlic smells fragrant, 3 to 5 minutes. Add the paprika, chili powder, and ½ teaspoon of the salt and stir well for a minute or so to combine. Add the tomato paste and the liquid aminos and cook, stirring often, until well combined, about 3 minutes. Add the diced tomatoes and their juices and cook, stirring often, until the sauce just starts to thicken, 5 to 7 minutes. While stirring, slowly pour in the stock. Raise the heat to high and bring the mixture to a boil, then lower the heat to medium. While the stock is simmering, add the asparagus, spring peas, and sugar snap peas. Simmer the vegetables for 1 minute, then remove them with a spider or skimmer and transfer to a bowl. Sprinkle with the remaining ¼ teaspoon salt and drizzle with the pili pili oil, toss well to combine, and set aside.
Add the rice to the saucepan, cover, decrease the heat to low, and cook for 45 minutes, until most of the liquid has been absorbed. Remove from the heat and let the rice steam, covered, for 15 minutes.
To serve, fluff the rice with a fork and transfer to a serving bowl. Squeeze lemon juice over the rice, place the vegetables over the rice, and serve.