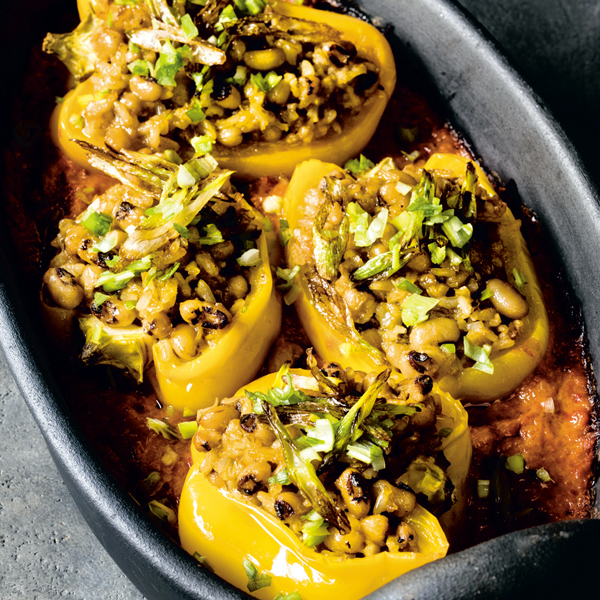 I was inspired to make this recipe after having a remarkable dinner at Hart's Restaurant in Brooklyn with my good friend, the brilliant filmmaker Shalini Kantayya. Hart's packed farm-fresh banana peppers with Hoppin' John—a black-eyed peas and rice dish popular in the South—and it spoke to my soul. Fresh banana peppers may be difficult for some to obtain, so I call for yellow bell peppers instead. If you have access to banana peppers, however, by all means use them.
Ingredients
Hoppin' john
¾ cup black-eyed peas, picked over and soaked overnight in water plus 1 tablespoon kosher salt
1 bay leaf
1 large yellow onion: half diced, half left intact
5 garlic cloves: 3 cut in half, 2 minced
1 dried red chile
2½ teaspoons kosher salt
½ cup long-grain brown rice, rinsed and soaked overnight in water plus 1 tablespoon vinegar
2 tablespoons extra-virgin olive oil
2 tablespoons sun-dried tomato paste
¼ teaspoon cayenne pepper
2 tablespoons Bragg Liquid Aminos
2 cups vegetable stock
Red pepper sauce
6 tablespoons extra-virgin olive oil
1 cup diced yellow onion
½ teaspoon ground cumin
⅛ teaspoon cayenne pepper
2 teaspoons coarse sea salt
3 large garlic cloves, minced
1 teaspoon minced, seeded habanero chile
1½ cups canned whole tomatoes, with their juices
2 large red bell peppers, roasted , seeded, and coarsely chopped
½ cup Cashew Cream
2 tablespoons fresh lemon juice
1 tablespoon apple cider vinegar
Fried scallions
½ cup safflower oil
6 scallions, very thinly sliced on an angle
Coarse sea salt
Bell peppers
4 large yellow bell peppers or banana peppers
1 tablespoon fine sea salt, plus more as needed
Scallion Oil , for serving
2 tablespoons minced fresh scallions, for serving
Flaky sea salt, for finishing
Freshly ground white pepper
Make the Hoppin' John: Drain and rinse the black-eyed peas. Put them in a medium saucepan and add enough water to cover them by 2 inches. Bring the water to a boil over high heat. Skim off any foam and decrease the heat to medium-low. Add the bay leaf, onion half, halved garlic cloves, and dried chile. Partially cover and simmer until just tender, 45 minutes to 1 hour (the cooking time will greatly depend on the freshness of the beans). Once the beans are just tender, add 1 teaspoon of the salt and simmer for 10 more minutes. Drain the beans. Remove the bay leaf, onion, garlic, and chile and discard them. Set the beans aside.
Drain the rice and place it in a small bowl.
In a large Dutch oven, warm the olive oil over medium heat until shimmering. Add the diced onion and the remaining 1½ teaspoons salt and cook, stirring often, until the onion starts to brown, 10 to 12 minutes. Add the tomato paste, minced garlic, cayenne, and rice and cook, stirring with a wooden spoon, until the rice starts smelling nutty, about 2 minutes.
Add the liquid aminos and stock and bring to a boil. Gently stir in the black-eyed peas. Return to a boil, decrease the heat to low, cover, and cook until most of the liquid has evaporated (the mixture should be slightly moist to yield moist finished peppers), about 50 minutes. Remove from the heat and let sit, covered, for 10 minutes to finish steaming the rice. Transfer the Hoppin' John to a large bowl and set aside. Clean the Dutch oven.
Make the red pepper sauce: While the Hoppin' John is cooking, in a medium saucepan, warm the olive oil over medium-low heat until shimmering. Add the onion, cumin, cayenne, and salt and sauté until the onion just starts to brown, 10 to 12 minutes.
Stir in the garlic and chile and sauté until fragrant, 3 to 4 minutes more, then transfer the mixture to a blender. Add the tomatoes with their juices, roasted peppers, cashew cream, lemon juice, vinegar, and ¾ cup water and puree until smooth.
Make the fried scallions: In a small skillet, heat the safflower oil over medium heat until shimmering. Add the scallions and fry, stirring frequently, until deeply browned and crisp, 3 to 5 minutes. Remove the skillet from the heat. Use a slotted spoon to transfer the scallions to a paper towel—lined plate and sprinkle with salt. Let cool completely before serving.
Make the peppers: Preheat the oven to 400°F.
In a large pot, bring 3 quarts water to a boil over high heat. Pour about 1 cup of the red pepper sauce into the Dutch oven.
Meanwhile, slice the bell peppers in half lengthwise and discard the ribs and seeds, scraping the ribs with a spoon to ensure a smooth interior. With a paring knife, cut two ½-inch slits in the sides of each pepper to allow the sauce to seep through when cooking.
Add the salt and the peppers to the boiling water and cook until just tender but still crisp, 3 to 4 minutes. With tongs, transfer the peppers to a cutting board or large plate. Lightly season the peppers with salt.
Fill each pepper with a heaping portion of Hoppin' John, packing the mixture in firmly. Place the peppers, filling-side up, in the sauce in the Dutch oven. They should fit snugly. Pour in additional red pepper sauce as needed to come three-quarters of the way up the sides of the peppers. Loosely cover the peppers with aluminum foil and bake until the peppers are tender and heated through, 45 minutes to 1 hour. Transfer the peppers to a plate.
Serve family style or spread about ¼ cup of the red pepper sauce over each of four plates and place two bell pepper halves on each plate. Drizzle each pepper with scallion oil and garnish with the fried scallions and some fresh scallions. Season with a sprinkle of flaky salt and white pepper and serve.