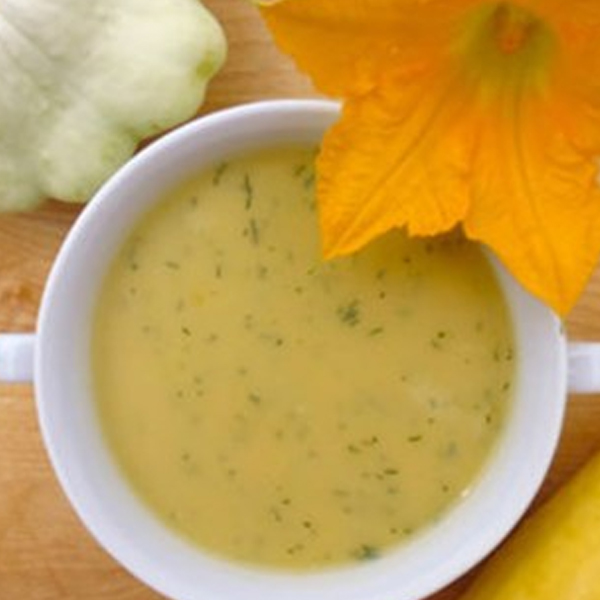 This coconut milk—laced soup is a fun way to use crookneck or straightneck yellow squash during the summer. The flavor profile of the soup is inspired by herbs and spices that one would find in Jamaican jerk seasonings. Many of them are pureed into the soup. Others go into a topping that includes pecans, thyme, cinnamon, allspice, nutmeg, and salt. Sprinkle it on along with coconut cream and fresh cilantro to add texture and visual interest. You can certainly puree this soup in the pot using an immersion blender, but you need to ladle the soup into a high-powered blender and puree it if you want it to be ultra-silky smooth.
Ingredients:
½ cup chopped raw pecans
2 teaspoons fresh thyme
¼ teaspoon ground cinnamon
¼ teaspoon ground allspice
¼ teaspoon freshly grated nutmeg
¼ teaspoon flaky sea salt
¼ cup coconut oil
1½ cups finely diced yellow onions
1 teaspoon raw cane sugar
1 teaspoon kosher salt, plus more as needed
2 teaspoons minced garlic
1 tablespoon finely grated fresh ginger
½ teaspoon minced seeded Scotch bonnet or habanero chile
2 pounds crookneck or straightneck yellow squash, sliced into 1-inch-thick rounds
4 cups vegetable stock
1½ cups unsweetened canned coconut milk
Freshly ground black pepper
Coconut Cream
¼ cup minced fresh cilantro, plus ⅓ cup loosely packed cilantro leaves
Directions
In a food processor, combine the pecans, thyme, cinnamon, allspice, nutmeg, and flaky salt and pulse until the pecans are coarsely ground.
Warm a medium skillet over medium heat. Tip in the pecan mixture and toast, stirring often to prevent burning, until fragrant, about 1 minute. Scrape the mixture into a bowl and set aside.
In a large saucepan, warm the coconut oil over medium heat. Add the onions, sugar, and kosher salt, decrease the heat to low, and cook, stirring often, until starting to caramelize, 15 to 20 minutes. Add the garlic, ginger, and chile and cook until the garlic is fragrant, about 3 minutes. Add the squash and the stock, raise the heat to medium-high, and bring to a simmer. Decrease the heat to low and simmer until the squash is tender, about 30 minutes.
Working in batches, carefully transfer the soup to a blender and puree until smooth, then return the soup to the saucepan (or blend the soup directly in the pan with an immersion blender). Add the coconut milk and warm through over low heat. Add a little water to thin the soup, if necessary (the soup should pour easily from a spoon). Taste and season with salt and pepper.
To serve, ladle the soup into bowls. Garnish with coconut cream, the spiced pecan mixture, and the cilantro. Serve.