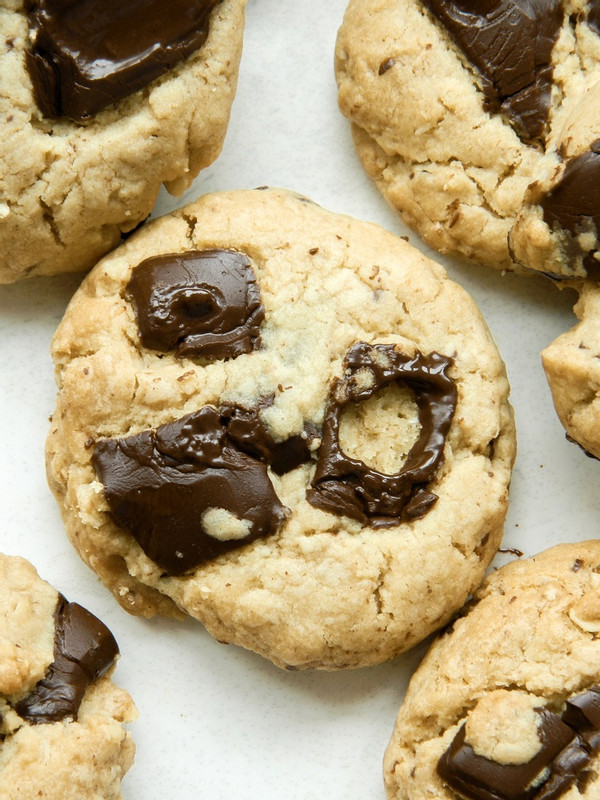 Happy Sunday everyone! It's only a week until my exams start and i'm starting to get a little nervous, although I haven't really done any revision yet so that may explain my nerves.
Instead I have been very productive making cakes, cookies and the likes for all of you! I apologise that none of them have made it onto the blog for ages but juggling cake deliveries, workouts and schoolwork can prove much harder than you may expect.
I have a feeling you will forgive me after you make/see these cookies though.
For a while I toyed with the idea of putting protein powder in them because I don't have anything like that on the blog as of yet, but them I decided against that idea because a protein cookie isn't really a COOKIE, now, is it?!
Crispy.
Chocolatey.
perfect for tea-dunking.
quick and easy.
What's not to love?
The best chocolate chunk cookies
Ingredients:
90g spelt flour
20g prana protein pea protein
45g coconut oil, melted
4tbs maple syrup
1tbs chia seeds (I used prana protein) mixed with 2tbs water
70g smooth almond or peanut butter
60g chopped vegan chocolate
35g rolled oats
1tsp baking powder
1/2 tsp baking soda
Directions:
Preheat the oven to 180 degrees. Make sure the coconut oil is melted (if not already, you can do this in a pan or microwave), and then stir in the maple syrup and nut butter. I personally used peanut butter because I had no almond butter to hand, but either should work.
Once they are fully combined, add in the oats, the flour, pea protein powder, chia seeds and water mix and the baking powder and soda. Stir well until it forms a sticky dough. Then mix in the chopped chocolate chunks. If too wet, add a little more flour and if too dry add a tough more maple syrup.
Use a spoon to scoop out balls (I made 9) and then place them on a baking tray. Flatten the tops slightly with your fingers and then place them in the oven for 12 minutes.
Remove and leave to cool before eating.