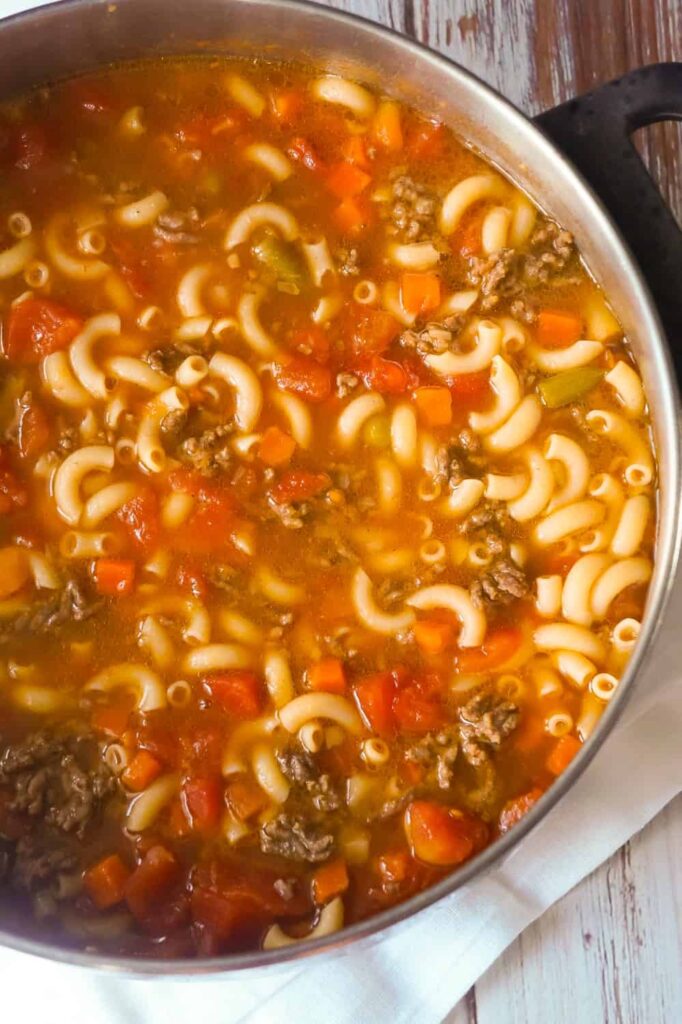 How to make Hearty Hamburger Soup – prep & cook time, serving size, nutritional info, ingredients. Add recipe ingredients to your shopping list!
This hearty hamburger soup is loaded with ground beef, potatoes and an assortment of vegetables, all in a savory broth. The perfect easy dinner option that the whole family will love!
When I'm looking for a one pot meal that I know will be a crowd pleaser, I turn to chili mac, chicken cacciatore or this simple yet satisfying hamburger soup.
Sometimes I find myself with a pound of ground beef and no clue what to make with it. It's times like that when I turn to hamburger soup- it's satisfying, quick, and you can customise it with whatever ingredients you already have around the house.
Ingredients
2 lbs lean ground beef
1 white onion, peeled and diced
1⁄4 teaspoon ground black pepper, more to taste
1⁄2 teaspoon dry oregano, more to taste
1⁄2 teaspoon dry basil, more to taste
1⁄4 teaspoon seasoning salt
1 (1 1/2 ounce) envelope onion soup mix
6 cups water, more to desired consistency
1 (8 ounce) can tomato sauce
1 tablespoon soy sauce
1 (15 ounce) can diced tomatoes, undrained
1 (15 ounce) can corn, drained
1 cup celery, sliced
1⁄4 cup celery leaves, coarsely chopped
1 cup fresh carrot, sliced
1 cup white potato, peeled and cut into small cubes
garlic salt, to taste
shredded parmesan cheese, to serve
sour cream, to serve
Directions
Brown ground beef and onion in a large pot. Drain if needed.
Add spices and onion soup mix.
Stir in water, tomato sauce and soy sauce. Bring to a boil; then reduce heat, cover, and simmer for 15 minutes.
Add the rest of the ingredients up to the potatoes bring to a boil; reduce heat, and simmer uncovered until potatoes and carrots are tender about 30 minutes. (Add more water if needed).
Season to taste with garlic salt.
Serve with shredded parmesan cheese and sour cream.
Source : allrecipes.com