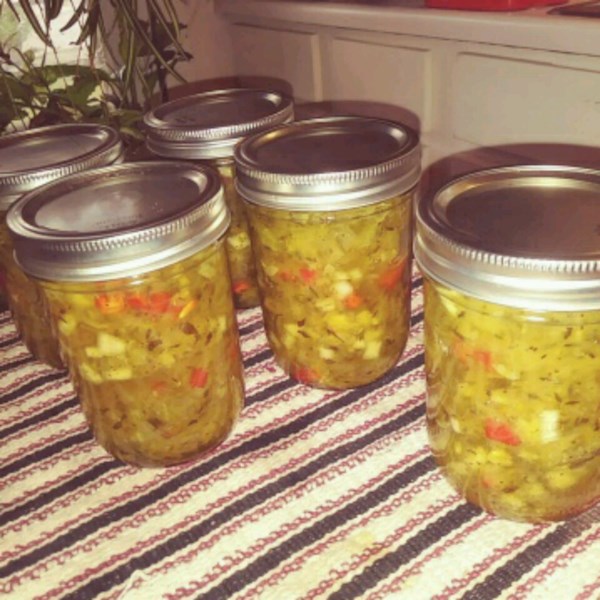 I channeled my maternal grandmother, Margie Bryant, when I created this recipe. It reminds me of the relish she made using fresh corn from farm trucks parked in downtown Memphis. In fact, corn relish was a traditional dish eaten throughout the South and stored in the larder for leaner months. I created it to top Smashed Fried Potatoes , but my family quickly found multiple uses for this tangy condiment: stuffing it into tacos, serving it atop beans, and simply sautéing it to serve as a side dish. Don't bother processing this in a hot water bath; just store it in the refrigerator. It will be gone within a few days.
Ingredients
3 large ears sweet corn
12 ripe cherry tomatoes, cut into ⅛-inch-thick slices
½ cup finely diced red onion
½ cup finely diced green bell pepper
2 tablespoons minced jalapeño
2 garlic cloves, ends cut off
¾ cup rice vinegar
¼ cup raw cane sugar
1 tablespoon brown mustard seeds
2 teaspoons cumin seeds
½ teaspoon kosher salt
½ teaspoon whole black peppercorns
¼ teaspoon ground turmeric
Sterilize two 1-pint canning jars and their lids and rings and set aside.
Fill a large bowl with ice and cold water and set aside.
Directions
Bring a large pot of water to a boil over high heat. Add the corn, bring the water back to a boil, and blanch for 1 minute. Drain the corn in a colander and immediately transfer it to the ice water for 5 minutes. Drain the corn and slice the kernels from the ears.
Evenly divide the corn kernels, tomatoes, onion, bell pepper, jalapeño, and garlic between the canning jars and set aside.
In the pot you used for the corn, combine the vinegar, ¼ cup water, the sugar, mustard seeds, cumin seeds, salt, peppercorns, and turmeric and bring to a simmer over medium-high heat. Cook until the liquid is hot to the touch and the sugar has completely dissolved, about 3 minutes.
Divide the liquid evenly between the canning jars and let cool. Seal the jars and refrigerate the relish for at least one day to develop the flavor. The relish will keep in the fridge for up to 1 year.