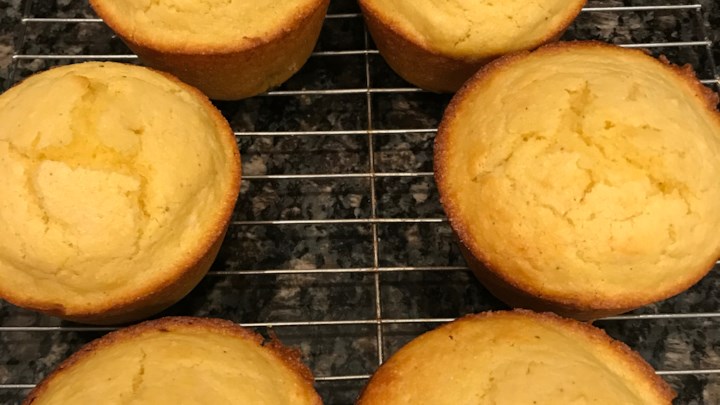 My paternal grandfather lived through the Jim Crow South, so when he retired, all he wanted to do was praise the Lord, serve his community, spend time with his family, and tend his garden. He loved hanging out with his grandchildren, and I have fond memories of sitting with my Paw Paw at his kitchen table in the summer, eating a piece of cornbread slathered with butter while he drank buttermilk, sometimes crumbling cornbread into the milk and eating it like cereal. I carry on that tradition by feeding our girls my take on this special breakfast, usually on Saturdays. I remind them that this is not a dessert, and that Black folks in the South like their cornbread sweet because that's the way it's supposed to be eaten. Whipped sweet corn takes the place of butter, and we jazz it up with a heaping spoonful of hot pepper jelly—creating our own memories, with my Paw Paw at their heart.
Ingredients
cornbread muffins
3 tablespoons coconut oil, plus more for greasing
6 pitted Medjool dates
Boiling water
¾ cup medium-grind yellow cornmeal
¾ cup flour
2 tablespoons coconut palm sugar
1 tablespoon baking powder
½ teaspoon fine sea salt
2 heaping tablespoons freshly ground golden flaxseeds
1 cup unsweetened oat milk
whipped sweet corn
3 tablespoons vegan butter
¼ cup finely diced white onion
2 cups fresh corn kernels (from about 3 ears)
2 teaspoons coconut palm sugar
¼ teaspoon kosher salt, plus more as needed
½ cup Cashew Cream
Fresh lemon juice
Freshly ground white pepper
Jalapeño Pepper Jelly , for serving
Directions
Make the muffins: Preheat the oven to 400°F. Generously coat nine wells of a standard muffin tin with coconut oil.
Put the dates in a small heatproof bowl and cover with boiling water. Let soak for about 5 minutes. Drain the dates, reserving the soaking liquid, and transfer them to a food processor. Add 1 tablespoon of the reserved soaking liquid and process, scraping down the sides and adding more of the reserved soaking liquid if necessary, until mostly creamy but with a few chunks remaining.
Place the prepared muffin tin in the oven to heat for 5 minutes.
Meanwhile, in a large bowl, sift together the cornmeal, flour, sugar, baking powder, and salt. Whisk until blended.
Put the flaxseeds and 6 tablespoons water in a medium bowl and whisk until well blended. Whisk in the pureed dates and the coconut oil until smooth. Whisk in the oat milk until well combined. Add the oat milk mixture to the cornmeal mixture and stir until just combined.
When the muffin tin is hot, remove it from the oven and immediately scrape the batter into the prepared muffin cups, distributing it evenly among them (they should be a little over three-quarters full).
Bake until the muffins are golden brown, 16 to 18 minutes. Let cool in the tin for about 10 minutes, then transfer to a wire rack to cool a bit more.
Make the whipped sweet corn: While the muffins are cooling, in a large skillet, melt the butter over medium heat. Add the onion and sauté, stirring often, until soft, 3 to 5 minutes. Add the corn, sugar, and salt and cook, stirring often, until the corn is just tender, about 5 minutes.
Scrape the contents of the skillet into a food processor. Add the cashew cream and process until silky smooth, adding water as necessary to reach the desired consistency. Taste and season with lemon juice, salt, and white pepper. Transfer to a serving bowl.
Serve the warm muffins slathered with whipped sweet corn and topped with pepper jelly.