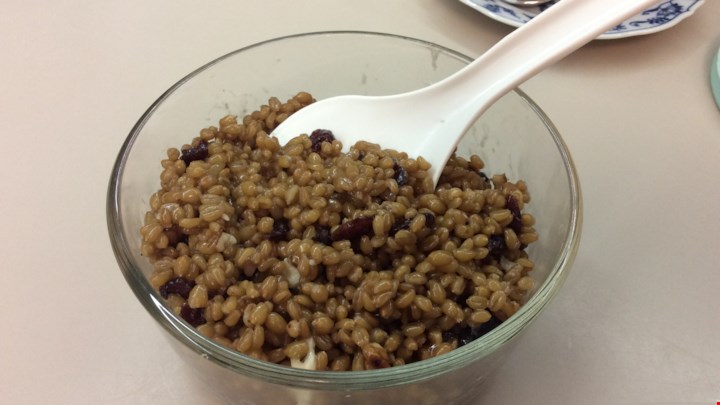 Instant Pot Wheat Berries— tender, chewy berries cooked in minutes in a
Pressure Cooker. I like to use it in sandwiches, curry, chilies, or spaghetti
sauce.
From Ayurvedic Point of View:
Wheat is still an essential food component commonly used in Ayurveda.
This is especially recommended for airy Vata and fiery Pitta types because
of their nutritious composition, which offers more protein than rice and is
better adapted to colder climates or seasons. In general, however, wheat
should be avoided by watery Kapha types, which tend to overweight and
slow digestion.
Ayurveda also adjusts the diet according to the individual constitution and
according to the digestive strength or the digestive fire, 'Jatharagni,' which
is responsible for digesting the food we consume. It is praised as a dietary
component to boost body strength and nutrition.
Servings: 1
Time to Prepare: 30 minutes
Ingredients:
3 cups water
1 cup wheat berries (hard white wheat is recommended)
Pinch of salt
Instructions:
Add water, wheat, and salt to Instant Pot. Close the lid and set
the valve to Sealing.
Set the Manual timer to 30 minutes.
When the timer beeps you can make a Quick Release by
switching the switch to Venting.
Drain the berries and eat them alone or in other recipes.
Creamy Instant Pot Grits
Creamy Instant Pot Grits
With only a few minutes of active time, you can make delicious vegan
grits in your Instant Pot. This Southern favorite can be consumed either
sweet or savory!
Making stone-ground grits on the stove needs continuous observation, so I
set out to make this Southern staple simpler.
It turns out that it's really simple to make grits, particularly dairy-free and
vegan grits, in the Instant Pot. Cooking grits in the Instant Pot offers
hands-free time to make slice fresh fruit, or cook another part of your
meal.
In total, it takes about 30 minutes to make Instant Pot grits, which is close
to the amount of time required for stovetop grits.
The strongest aspect of Instant Pot grits: No lumpy-clumpy grits and no
stirring!
From Ayurvedic Point of View:
According to Ayurveda, nuts of all sorts in moderation, nut milk and nut
butter ; almond, sunflower, and pumpkin seeds are excellent for pacifying
Vata. In moderation, blanched and peeled almonds and coconuts are fine
for Pitta, as are sunflower and pumpkin seeds.
Grits made from corn pacifies Kapha and Pitta Dosha. It is beneficial for
general fatigue, anorexia, hemorrhoids, and emaciation. The power to
pacify Pitta makes it a perfect summer meal. It nourishes Rasa Dhatu
(plasma) and is believed to minimize water retention and blood pressure.
Servings: 4
Time to Prepare: 20 minutes
Ingredients:
2 cups unsweetened soy milk
1 cup stone ground grits (NOT Instant grits)
1 tbsp. oil or vegan butter
1/4 cup nutritional yeast (for cheesy grits, optional)
1/8 tsp. salt
2 and 1/2 cups water
Instructions:
Select the Sauté feature on your Instant Pot. Heat up the oil or
the butter. When it's hot, add the grits. Sauté for 2 minutes,
stirring regularly with a spatula or a wooden spoon.
Sprinkle with salt, and then add water and soy milk. Add the
nutritional yeast to the cheese grits. Lock the lid in place and
seal the pressure valve. Cook under High Pressure for 13
minutes. Allow the pressure to release naturally for 10 minutes
until the cooking period is over. Remove the residual strain
manually.
Sauté the additional liquid if desired, or pour in a splash of
milk. Add salt and pepper to taste. Enjoy!
Notes:
Stone-ground grits: We'll use standard grits for this recipe. You
can find them labeled old style grits, stone ground grits, or even
coarse cornmeal.