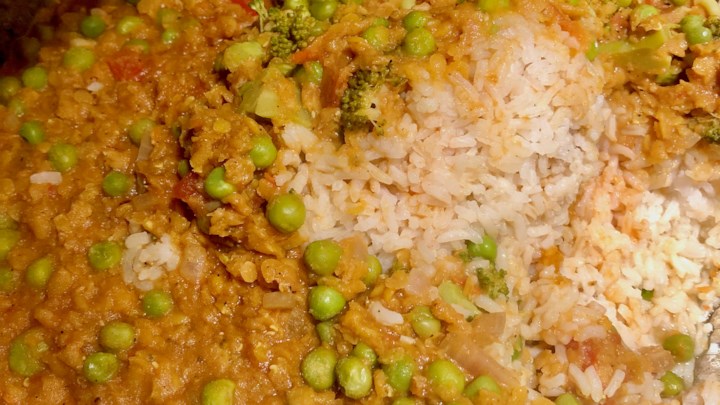 Eat this tasty and nutritious Whole Masoor Dal, also known as Brown
Lentils Curry, produced in Instant Pot.
Whole Masoor Dal is also popularly known as Brown Lentils or 'Sabut
Masoor Ki Dal.' These are simply red lentils that are popular all over the
world.
This Whole Masoor Dal very much for dinner. It is well-matched with
rice, naan or roti/paratha.
From Ayurvedic Point of View:
For vegetarians, beans , dals, and lentils are an essential source of
nutrition—protein, complex carbohydrates, fiber, and vitamins. As
versatile as they are tasty, dals and lentils are used to make salads,
appetizers, soups, main dishes, side dishes, and desserts, too. They fit
well with other foods, such as grain, vegetables, herbs, and spices.
Servings: 4
Time to Prepare: 30 minutes
Ingredients:
1 cup tomatoes (chopped)
1 cup brown lentils (rinsed)
1 tbsp. vegan ghee or oil
1 tsp. cumin seeds (Jeera)
1 cup onions (diced)
1/2 tbsp. garlic (minced)
1/2 tbsp. ginger (grated)
2 1/2 cups water
1 tbsp. lime juice
1 green chili pepper (optional)
Cilantro to garnish
Spices
1/2 tsp. garam masala (curry masala)
1/2 tsp. red chili powder (adjust to taste)
1/4 tsp. ground turmeric
1 tsp. coriander powder
1 tsp. salt (adjust to taste)
Instructions:
In the Sauté mode, let the Pot heat. Add the oil and the cumin
seed. Sauté for the next 30 seconds.
Add green chili, onions, ginger, and garlic as the cumin seeds
shift color. Sauté for 3 minutes until the onions turn golden
brown while stirring constantly.
Add the tomatoes and the spices. Stir and Sauté for another two
minutes.
Add the lentils, water, and mix well. Press Cancel and close the
lid with the vent in the Sealing position.
Change the configuration of the Instant Pot to Manual or
Pressure Cook mode at High Pressure for 12 minutes. Let the
pressure release naturally after the Instant Pot beeps.
Open the Pot. Add the lime juice and stir in the dal.
Garnish with cilantro. Serve your dal with roti, naan or rice.
Notes:
Want it less spicy: Skip the green chili and reduce the red chili
powder.
Which green chili is to be used? For my recipes, I typically use
Thai, Birdeye or Serrano Chili Pepper. Don't hesitate to use any
pepper as per your taste.