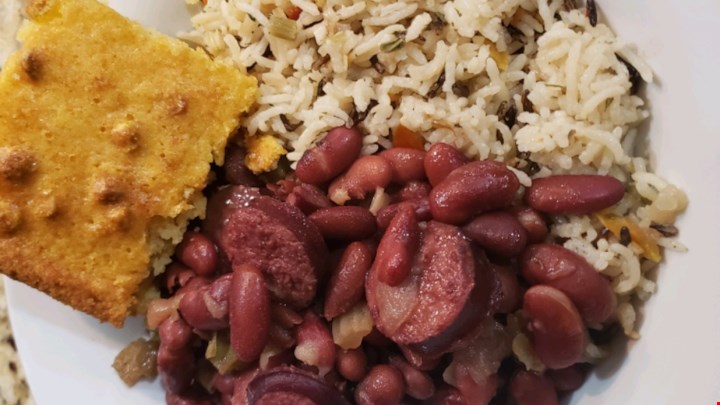 You can make a recipe for Instant Pot Rice and Beans today! With dried
black beans, no soaking, no Sautéing, in 30 minutes flat.
Okay, this healthy Instant Pot rice and beans recipe is a weeknight dinner
saver! Black beans and brown rice cook together in a One Pot for 22
minutes. Hardly any chopping is needed, and there is no need to soak the
beans!
From Ayurvedic Point of View:
In Ayurvedic terms, rice is said to be quite balancing to all the three
Doshas or elements that underlie our body and our wellbeing—Vata, Pitta,
and Kapha. Rice is lighter than many other grains, so that it can be eaten
by Kapha; it's cool, sweet, and moist nature function for Pitta; and sweet
moist attributes balance Vata.
For vegetarians, beans , dals, and lentils are an essential source of
nutrition—protein, complex carbohydrates, fiber, and vitamins. As
versatile as they are tasty, dals and lentils are used to make salads,
appetizers, soups, main dishes, side dishes, and desserts, too. They fit
well with other foods, such as grain, vegetables, herbs, and spices.
Servings: 6
Time to Prepare: 30 minutes
Ingredients:
2 cups brown rice (rinsed)
1 cup dried black beans (rinsed)
1 large onion (chopped)
4 cups water or low sodium vegetable broth
1 1/2 tbsp. cumin
1 tbsp. garlic powder
2 tsp. chili powder
1 1/4 tsp. salt
28 oz can diced tomatoes (low sodium)
1 bunch cilantro (chopped)
Hot sauce (optional)
Instructions:
In Instant Pot, add all the Ingredients in the order listed (do not
change): onion, brown rice, black beans, water, cumin, garlic
powder, chili powder, salt, and diced tomatoes. Don't stir it.
Cover the lid, turn the pressurized vent to Sealing and press
Pressure Cooking on High for 22 minutes.
After Instant Pot has finished cooking, release the pressure
using the Quick Release method by turning the Venting valve
and opening the lid.
Add cilantro and stir gently. If the rice and beans are a little
moist or a little crunchy, cover the lid and let them stay for
another 10 minutes.
Serve warm with hot sauce, if wanted, and the best option is to
eat it with cucumber and tomato salad. I love the combination
of hearty rice and beans with a cool, fresh vegetable salad.
Store: Refrigerate in an airtight bag for up to five days.
Freezer Meal: In a gallon-sized Zip-lock bag, add all ingredients
except water and finish with tomatoes on top. Let as much air
out as possible, seal and freeze for up to 3 months. Pressure
Cook on High from frozen (don't forget to add water) for 22
minutes ending with Quick Release.
Notes:
Don't use white rice, please. It cooks in a different way than
brown rice.
Any of the dried beans need different cooking times. I do not
suggest using some other kind of beans other than black beans.