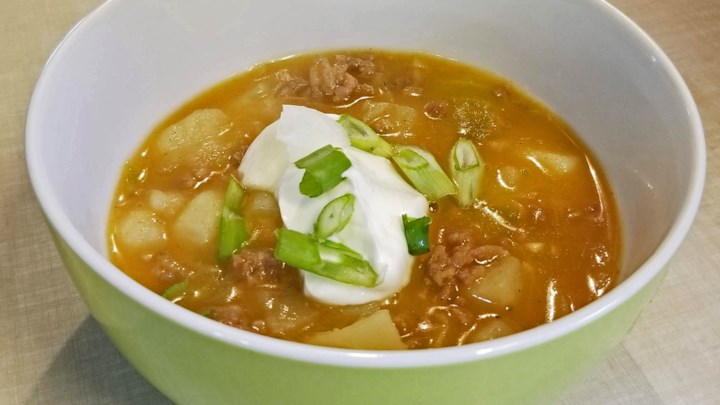 Cooking soups using an Instant Pot is amazing because you can do so
much with it in just a short time.
This delicious and creamy potato soup is so quick to make in the Instant
Pot that you'll love it for a simple, warm meal all fall and winter. Serve
with fresh sourdough bread to make a real treat.
From Ayurvedic Point of View:
As per Ayurveda, potatoes are considered being calming, but astringent or
dry in taste, with a cool and sweet post-digestive effect. Although usually
fine for all Doshas, certain forms of Vata and Pitta may be impaired by
arthritis or liver toxicity.
Kale is one of our favorite greens for aggravated Pitta and Kapha. It's
cooling for Pitta, unlike spinach. Fiber and bitter taste promote peristalsis,
enabling frequent elimination of the bowel. Bitter taste often boosts bile
production, reducing gall bladder and liver congestion.
Servings: 6
Time to Prepare: 30 minutes
Ingredients:
2 lbs. Yukon gold or red potatoes (chopped into cubes)
1/2 tsp. dried parsley
3 1/2 cups vegetable broth
1 white onion (diced)
4 cloves garlic (minced)
2 ribs celery (chopped)
1 tsp. dried oregano
1/2 tsp. dried thyme
3 carrots (peeled and sliced)
A squeeze of fresh lemon juice
2 cups de-stemmed and finely chopped kale
Salt and pepper to taste
Instructions:
Add the onion, garlic, carrots, and celery to the Instant Pot with
1/4 cup of water or vegetable broth. Click "Sauté" and let the
heat come. Once hot, cook, stirring constantly, for 5-6 minutes,
until it begins to soften and fragrant.
Add the oregano, thyme, and parsley. Stir to mix and simmer for
a couple more minutes.
Add the potatoes and the vegetable broth. Mix well.
Seal the lid and make sure the switch is switched to Sealing.
Click Pressure Cook and set the timer to 10 minutes. Now the
display will say On. The Instant Pot will take around 10 minutes
to get under pressure at which point, you will hear a beep and
the timer will begin.
Once the timer is over, carefully turn the Vent Knob to Quick
Release. Allow all the pressure to be released before the float
valve drops, at which stage the lid should be removed.
When the soup has stopped boiling, you can either pour half of
the soup into a blender or use an immersion blender in the
Instant Pot. I would prefer the blender approach for a creamier
soup; just make sure you allow the steam to escape when
blending. After half the soup has been blended, pour it back into
the Instant Pot with the unblended portion.
Stir in the chopped kale and season with salt and pepper, and if
wanted, with fresh lemon juice.
Serve. Optional toppings include diced chives, green onion,
crumbled tempeh bacon, or grilled vegan cheese.
The leftovers may be kept in the refrigerator in a sealed
container for up to 5 days or in a freezer for up to 3 months.