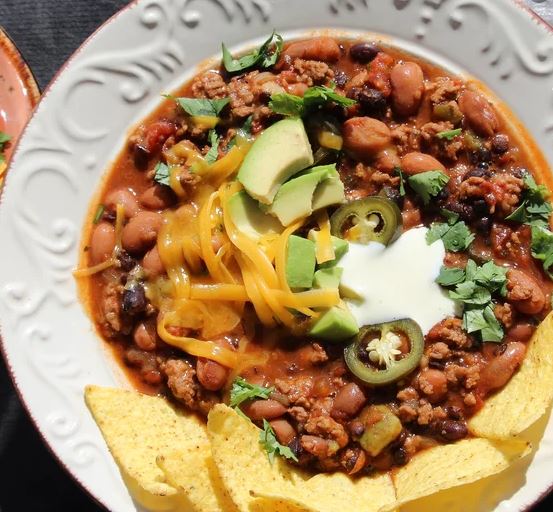 4 Bean Chili is packed with many flavors and vegetable protein in a
creamy tomato broth. This 4 Bean Chili is a 30-minute, hearty bean recipe
that requires about 4 minutes of active cooking from you!
From Ayurvedic point of View:
For vegetarians, beans , dals, and lentils are an essential source of
nutrition—protein, complex carbohydrates, fiber, and vitamins. As
versatile as they are tasty, dals and lentils are used to make salads,
appetizers, soups, main dishes, side dishes, and desserts, too. They fit well
with other foods, such as grain, vegetables, herbs, and spices.
Servings: 9
Time to Prepare: 30 minutes
Ingredients:
2 tsp. olive oil
1 tbsp. cumin
2 tsp. oregano
1 chipotle pepper (chopped)
1 tsp. adobo sauce
1/4 tsp. kosher salt
1 medium yellow onion (peeled and chopped)
1 yellow bell pepper (seeded and chopped)
15-ounce can cannellini beans (drained and rinsed)
15-ounce can great northern beans (drained and rinsed)
3 garlic cloves (diced)
3 tbsp. chili powder
2 cups vegetable stock (not too salty)
15-ounce can tomato sauce
15-ounce can petite diced tomatoes
15-ounce can black beans (drained and rinsed)
15-ounce can red kidney beans (drained and rinsed)
Optional garnish ideas: chopped pepper, sliced avocados
Instructions:
On the Instant Pot, select the Sauté setting. Heat the oil and add
the onion, the pepper, and the garlic. Sauté before the onion
begins to soften (3-4 minutes).
Add chili powder, cumin, and oregano; Sauté for an additional
minute. NOTE: To prevent a Burn alert on the Instant Pot,
ensure that no food particles adhere to the bottom of the insert
before proceeding.
Add the remaining ingredients, secure the lid, set the vent on
Sealing and select Manual High Pressure for 10 minutes.
When done, do the Natural Release for 10 minutes, and then
manually remove the remaining pressure, stir and serve.
Garnish as you want.