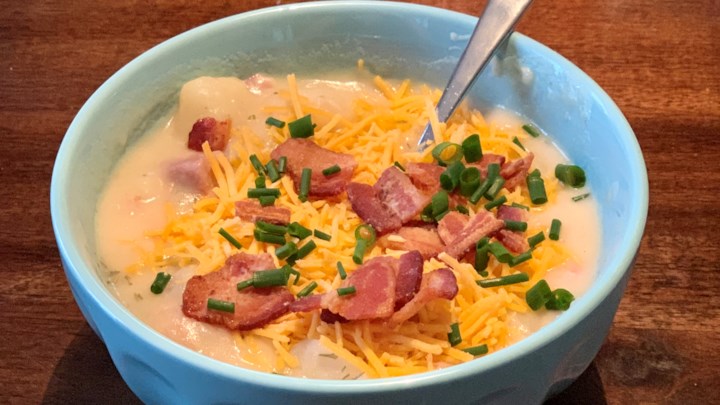 You're going to love this healthy, hearty chowder; vegan and gluten-free.
It's packed with veggies, including celery. It's not too heavy, so it makes a
good light partner for the sandwich.
From Ayurvedic Point of View:
As per Ayurveda, potatoes are considered being calming, but astringent or
dry in taste, with a cool and sweet post-digestive effect. Although usually
fine for all Doshas, certain forms of Vata and Pitta may be impaired by
arthritis or liver toxicity.
Ayurveda considers onion and garlic more than food. As a result, onions
and garlic are known as blood purifiers in Ayurveda. While garlic has
curing properties, onions have cooling properties and are a perfect summer
snack. Onions are sweet in flavor and help promote better digestion.
Servings: 6
Time to prepare: 25 minutes
Ingredients:
5 pounds russet potatoes (cut into cubes)
4 cups vegetable broth/stock ( use gluten-free)
1/2 cup diced carrots
3 cloves garlic (minced)
2 to 3 cups non-dairy milk of your choice
4 tsp. vegan butter (sunflower or almond)
1 cup diced celery
1 cup diced yellow onion
2 tsp. freshly ground black pepper
Instructions:
Place the potatoes in the inner lining of your 6-quarter or larger
Instant Pot, then top with celery, onion, carrots, vegetable
butter, garlic, and pepper. Pour the vegetable broth over the top.
There's no need to stir.
Secure the lid on the Instant Pot. Put on Manual High Pressure
for 5 minutes.
When the five minutes of High Pressure Cooking period is
finished, gently release the pressure. It should take a couple of
minutes for all the steam to be released.
Once the steam has been emitted and the locking pin dropped,
gently detach the lid. Within you'll have fork-tender potatoes
and vegetables ready to turn into chowder!
Use a potato masher (makes a chunkier soup) or an immersion
blender, mix until the vegetables are the smoothness you like in
the chowder. Then pour in two cups of milk. If you like it to be a
little thinner, add another cup of milk.
Serve topped with shredded cheese/Daiya, green onions, and
coconut bacon (or oink-bacon).
Remains can be kept in the refrigerator or frozen. When
reheating, you'll need to add a little more liquid, like vegetable
broth or milk. This is because the starches in the potatoes tend
to thicken, and you're going to want to thin it out a little.
Optional toppings: shredded cheese or Daiya (dairy-free cheese
shreds); sliced green onions; coconut bacon (or regular if that's
your way of cooking).
Note:
I like to use Russet potatoes when making soup. If you like
potato soup with big pieces of potatoes in it, you would want to
use Yukon gold potatoes.