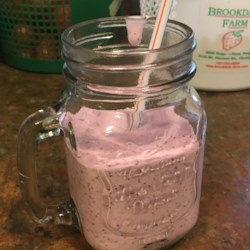 Now for this dish… Instant Pot blueberry breakfast oatmeal is a good shift
from usual eggs and bacon breakfast. It's also an E meal. It's so
convenient to just add ingredients to a pint-sized jar, cover the top with a
piece of foil and put in a Pot filled with 1.5 cups of water. It's so easy!
I set it on Manual for 6 minutes and let the pressure go naturally. Yep,
you've just cooked oatmeal in a jar! Take the jar out with the oven mitt and
place them on the counter to cool for a few minutes. When it's cold enough
to touch, mix it all together and enjoy! If required, you can add a little
more almond milk (unsweetened).
From Ayurvedic Point of View:
Nature has provided us with a number of berries, and every berry has
different health benefits in a particular way. Nature has gifted human
health with a special type of berry named blueberry . Nevertheless, both
berries produce antioxidants and other health-promoting compounds, but
the abundance of antioxidants and health-promoting compounds in
blueberries is higher.
The Pitta pacifying product makes blueberries ideal for summer. It gives
the body a soothing feeling and is helpful to the eyes connected with Pitta
Dosha. The most appropriate way to eat blueberries is in their fresh, whole
form.
Servings: 1
Time to Prepare: 6 minutes
Ingredients:
1/3 cup oats (old fashioned)
1/3 cup almond milk (unsweetened)
1/3 cup fat-free vegan Greek yogurt
1/3 cup blueberries (fresh or frozen)
1 tsp. chia seeds
Splash of vanilla
Pinch of mineral salt
1-1/2 cups of water for the Pot
Sweetener to taste
A sprinkle of cinnamon (optional)
Instructions:
Put the water in your empty Pot and set aside.
Using a pint-size jar, pour all the ingredients in the order
specified.
Cover the top of the jar with a piece of aluminum foil and put it
in the Pot.
Set it on Manual for 6 minutes.
Allow the Instant Pot to relieve the pressure naturally.
Use a Pot-holder or oven mitt, gently remove the jar and place it
on the counter to cool for a few minutes.
When cold enough to touch mix the oatmeal and enjoy!