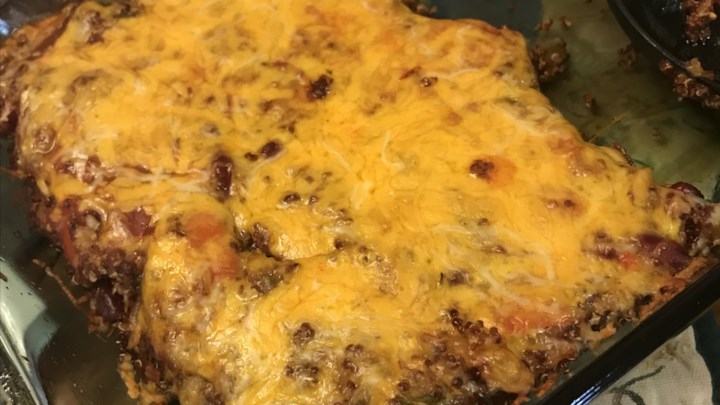 Quinoa Enchilada Casserole
Veggie-based quinoa enchiladas are sure to satisfy and have lots of
nutrition. Who says the vegetables are boring? This Mexican-inspired
vegetarian recipe is filled with flavor!
From Ayurvedic Point of View:
Quinoa is an ancient seed that provides an excellent source of protein. It
is closely linked to beetroots, spinach, and tumbleweeds. Quinoa balances
all the Doshas. Those wanting to balance Vata should consume it with a
little bit of healthy olive oil or ghee.
Enchiladas are generally a strong source of 7 vitamins and minerals and a
decent source of 10 more! (High source: 20% or more of Daily Value (DV)
and decent source: 10-19% of DV).
Servings: 3
Time to Prepare: 20 minutes
Ingredients:
1 cup quinoa
1.5 cups black beans
1 1/2 cups water
1/2 red onion
1 cup tomatoes
1/2 tsp. cumin
1/4 tsp. salt
1 can corn kernels
1 tsp. chili powder
1 cup enchilada sauce
1 cup cheddar cheese
1 can green chilies
Instructions:
Chop the red onions.
Wash and rinse the canned vegetables.
Chop the tomatoes.
Slice the cheese.
Add all the components of the enchilada to the Instant Pot,
except for the cheese.
Close the lid. Choose the "Manual" option and set it to high for
1 minute.
Allow the Instant Pot to relieve the pressure gradually through
the natural relieve before removing the lid (it should take 10-15
minutes).
Stir in the cheese.
Notes:
Apply more chopped tomatoes, avocado slices, or cilantro to
top the casserole.
You can store it in an airtight container in the freezer for three
months.